The Ingredients for Success
Tri-C culinary program helps Christopher Kafcsak move career to the kitchen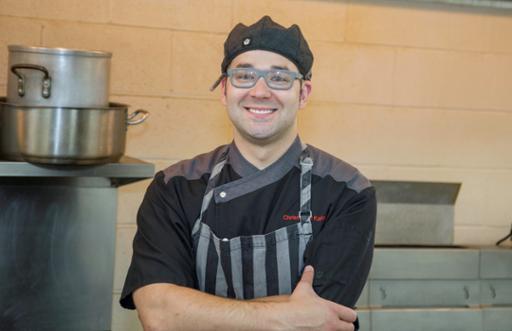 Chef Christopher Kafcsak entered Cleveland's culinary scene through the produce aisle.
Long before he sharpened his cooking skills at Cuyahoga Community College and opened Nomad Culinary, Kafcsak worked at the Northern Ohio Food Terminal supplying restaurants with the fresh ingredients that make meals come to life.
He filled orders ranging from common goods like lettuce, tomatoes and onions to exotic selections like the tentacled fruit dubbed Buddha's hand.
In that job, he said, produce served as a commodity to buy and sell.
But one night helping a chef friend cater a dinner event changed that viewpoint: "He did so many interesting things with the ingredients," Kafcsak said. "I saw food in a way I had never seen it before."
So in 2010, Kafcsak enrolled in the culinary program at Tri-C's Hospitality Management Center of Excellence. (He previously had earned an Associate of Applied Business degree from the College.)
"Tri-C gave me a foundation to build on," said Kafcsak, 31, of Parma. "I owe so much to what I learned there."
Kafcsak took the knowledge that he gained at the College and put it to use in a mouth-watering list of Northeast Ohio eateries, including Cibreo Italian Kitchen, AMP 150 and Washington Place Bistro.
In 2015, the rising star on the Cleveland food scene landed the executive chef position at Deagan's Kitchen and Bar.
His focus now is on building Nomad Culinary, a cook-from-scratch catering company he owns and operates. Kafcsak creates custom meals in Nomad's Broadview Heights kitchen that add a wow factor to events across the region.
Tri-C, meanwhile, continues to be part of Kafcsak's career. He employs five graduates and one student from the College's culinary program. ("I know from experience that they have what it takes," Kafcsak said.)
He also has worked with the College to create hands-on work experiences for students, particularly regarding cooking for large events.
In addition, Kafcsak is part of the Culinary Council guiding Tri-C's Cleveland Eats Culinary Festival. The festival, now in its second year, will take place Sept. 15 at the Mall B outdoor event space above the Huntington Convention Center of Cleveland.
"Tri-C is where the next generation of Cleveland chefs will get their start," Kafcsak said. "I want to do whatever I can to help them along."
August 03, 2018
John Horton, 216-987-4281 john.horton@tri-c.edu