The Importance of Beginnings
Monroe Kennedy III did the work to add a Tri-C degree to an impressive academic resume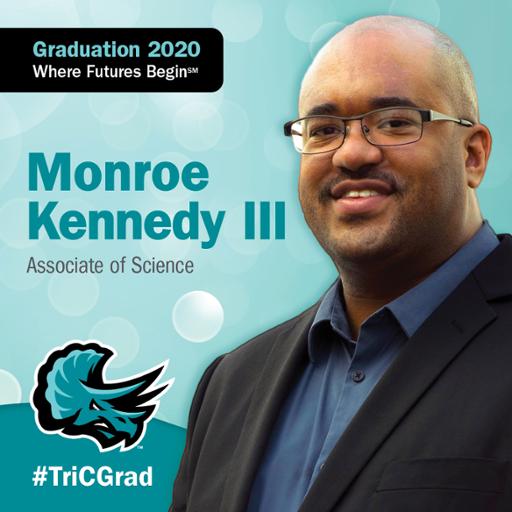 Monroe Kennedy III earned a Ph.D. on his way to becoming an assistant professor of mechanical engineering at Stanford University. Earlier this year, he reverse transferred college credits to complete the Associate of Science degree he began working toward at Tri-C in 2006. 
In the following essay, which was published in the fall 2020 edition of Tri-C Times magazine, Kennedy explains why he felt the need to finish what he started more than a decade ago. 
Beginnings are important. 
I remember how I felt on my first day at Tri-C — the excitement for what I would learn, the friends and collaborators I would meet, the community I would join. But as a high school-aged student starting college, I was also concerned about how I would measure up. 
Ultimately, my time at Tri-C helped me gain confidence in myself and my ability to succeed. 
All the professors I met at the College were absolutely dedicated to my success. Dr. Ormond Brathwaite truly helped propel my career by nominating me for a scholarship from the University of Maryland.   
I went on to earn a Bachelor of Science in mechanical engineering from the University of Maryland, Baltimore County, as well as a Master of Science in robotics and a Ph.D. in mechanical engineering and applied mechanics from the University of Pennsylvania. 
Today I serve as an assistant professor of mechanical engineering at Stanford University, where I also direct the Assistive Robotics and Manipulation Laboratory. As I look back on the trajectory of my life, I am humbled when I remember how many individuals contributed to my success along the way. 
I felt compelled to acknowledge their work and my own by completing my associate degree. I also hope to pay it forward by helping others on their own paths to success.   
To that end, I urge current and future students not to underestimate the importance of taking that first step. Beginnings are important — and Tri-C is an excellent place to begin. 
Cuyahoga Community College will celebrate the academic achievements of its newest graduates during a Dec. 17 virtual commencement ceremony. Check our News and Events page leading up to the online event as we highlight members of the Class of 2020.
December 12, 2020
John Horton, 216-987-4281 john.horton@tri-c.edu