The Doctor Will See You Now
Tri-C helped Carl Allamby make the most unlikely of career changes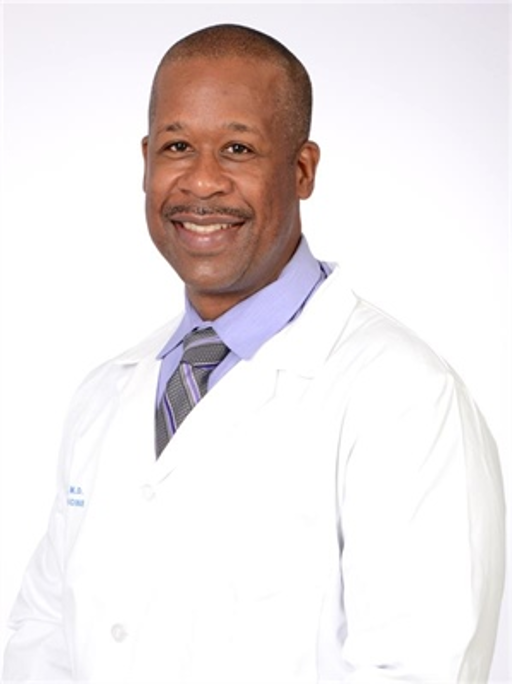 When Carl Allamby decided to pursue medicine as a career, he thought becoming a doctor was one of the least plausible options. He was already 40, and a completing medical school would take years.
But one professor at Cuyahoga Community College (Tri-C®) changed his thinking.
"I took a chemistry course, and my instructor, Arthur Varnes, pulled me aside after class one day," Allamby said. "He asked me what my goals were in getting into medicine, and I told him I still wasn't sure. He told me I would make a darn good doctor. That's what really got me thinking that this was something I could do."
It was the largest and most unlikely leap Allamby could have imagined. After completing the Automotive Technology program at Tri-C in the 1990s, he started his own auto repair business at age 19. For nearly 20 years, he owned and operated Allamby's Auto Services in East Cleveland and Advanced Auto Care in South Euclid.
In fact, his interest in entering the medical field was sparked by a class he originally didn't feel the need to take. He attended Ursuline College to pursue a business degree, with an eye toward growing his auto repair company. The degree required him to take a biology class.
"I put it off, because who needs biology in business?" he said. "But I eventually took it, and I fell in love with it."
After graduating from Ursuline in 2010, Allamby enrolled at Tri-C to begin taking medical program prerequisites. It was then that Varnes encouraged him to become a doctor.
"I've utilized Tri-C so often throughout my life. I took automotive classes there, I took other classes there over the years I was running my business, and then I turned back to Tri-C to help set me on this path that I'm now on."
Allamby took anatomy and physiology, chemistry and microbiology classes at Tri-C in preparation to transfer to Cleveland State University's pre-med program in 2013. Via the CSU-NEOMED Partnership for Urban Health, he entered medical school in 2015.
This past May, he graduated from NEOMED. Now 48, he has completed the most unlikely of career transitions. His auto repair businesses have been sold and liquidated, and he is now an emergency medicine resident at Cleveland Clinic Akron General.
But one thing was missing: Even though he was now a doctor, Allamby had never received an associate degree from Tri-C. This fall, via a reverse transfer arrangement with CSU, the remaining necessary credits were applied to his Tri-C transcript. This month, he will receive an Associate of Arts degree.
"It means so much to bring this full circle to where my story started," Allamby said. "To have my final degree be from Tri-C, the school that's been there for me all along. I have family members who have been beneficiaries of a Tri-C education. My sister, Melanie Johnson, works in the TRiO program there. It's a place that has meant so much to me and my family, and I'm happy to say that I'm finally going to be a Tri-C graduate."
Cuyahoga Community College will celebrate the academic achievements of nearly 1,800 graduates on Dec. 17 at Fall Commencement. Check our News and Events page in the days leading up to the ceremony as we highlight members of the Class of 2019.
December 15, 2019
Erik Cassano, 216-987-3577 erik.cassano@tri-c.edu