The Diversity Center of Northeast Ohio Honors Tri-C President Alex Johnson
Presentation of 2019 Humanitarian Award to take place Nov. 13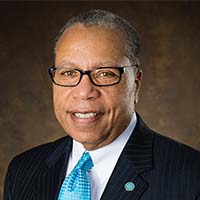 Cuyahoga Community College (Tri-C®) President Alex Johnson is being honored by The Diversity Center of Northeast Ohio for his work building a community where all people are connected, respected and valued.
The organization recently selected Johnson for a 2019 Humanitarian Award. The distinction is given to individuals who greatly contribute to the improvement of human relations among diverse groups in Northeast Ohio.
Johnson has served as Tri-C president since 2013. During that time, the College has received national recognition for building a campus culture that embraces diversity and inclusion.
The Diversity Center will recognize Johnson and a second honoree — MetroHealth System President and CEO Akram Boutros — during its 65th annual Humanitarian Award Dinner on Nov. 13.
The organization — which traces its roots to 1927 — works to promote equality on matters of race, age, religion, sex, ethnicity, culture, ability, gender identity, sexual orientation and socioeconomic status.
October 08, 2019
John Horton, 216-987-4281 john.horton@tri-c.edu