The Art of the Matter
Spring 2021 student speaker Julie Marie Wetzel found her future in art therapy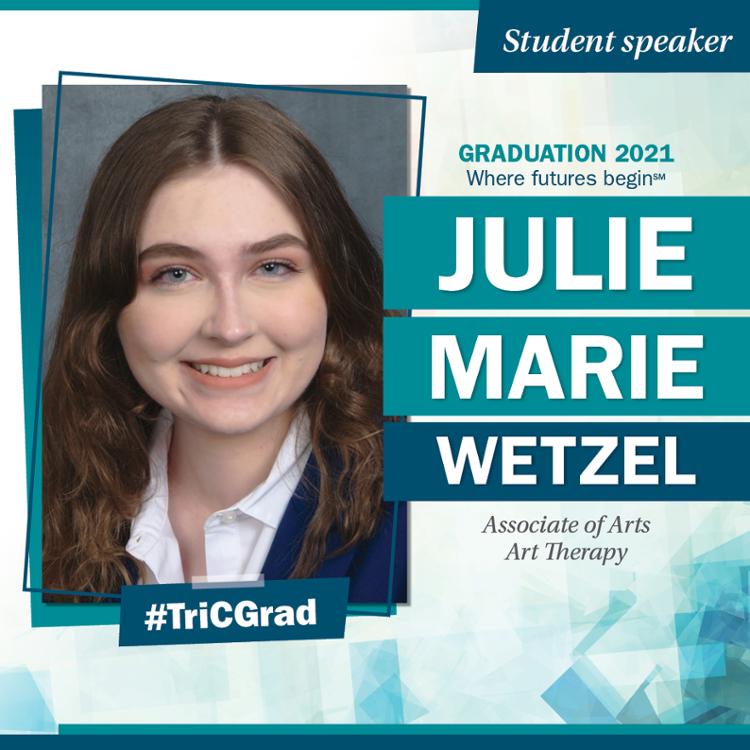 Julie Marie Wetzel of Westfield Township will graduate summa cum laude from Cuyahoga Community College this month with an Associate of Arts degree focused in art therapy. The 20-year-old, who will be the student speaker at commencement June 9, began attending Tri-C in fall 2019 after graduating from high school and the Medina County Career Center the previous spring.

Although Wetzel started out in criminal justice, after one semester she began to feel it wasn't the right field for her. Casting about for another major, she was delighted to discover that the College's Art program included an Art Therapy track.

"I've always been creative with the visual and performing arts," she said. "But I liked this because it had a mix of tools — still helping out people who need help, but I'm also incorporating the art into it.

"You can work with all populations, from children all the way to seniors, folks who have PTSD, all different sorts of people. So I think it's just a rewarding career path."

If not for Tri-C, she said, she probably wouldn't have found that path, since few colleges offer art therapy courses.

While in some respects, the pandemic-driven switch to remote learning was disappointing to Wetzel, who'd been looking forward to a "regular" college experience, it did save her a 40-minute commute to and from Western Campus. In addition, she said, "I think because we were able to do it online I was able to get involved in more stuff."

And get involved she did, serving as an officer for both the Phi Theta Kappa Chi Omega chapter at Western Campus and the Tri-C Art Club, participating in InterVarsity Christian Fellowship and, having been in Key Club in high school, becoming president of Tri-C's chapter of Circle K International, a collegiate program of Kiwanis International that promotes service, leadership and fellowship.

Wetzel availed herself of other opportunities at Tri-C as well, receiving three scholarships during her tenure: one for the College's Honors Program, one from the Cuyahoga Community College Foundation and another from the Bernie Moreno Cos. with help from the Foundation.

She will focus her commencement speech — not surprisingly, after the events of this past year — on resilience and perseverance.

Her next step will be to pursue either a master's in art therapy at Ursuline College, which includes counseling within the degree, or a separate bachelor's in counseling at another school followed by a master's from Ursuline.
Story written by Michael von Glahn.
Cuyahoga Community College will celebrate the academic achievements of its newest graduates during commencement, June 9 at Byers Field at Robert M. Boulton Stadium in Parma. Check our News and Events page leading up to the event as we highlight members of the Class of 2021.
June 09, 2021
Erik Cassano, 216-987-3577 or erik.cassano@tri-c.edu