Teal and Green: Tri-C's Commitment to Sustainable Construction
The College boasts eight LEED-certified buildings, with another in the approval process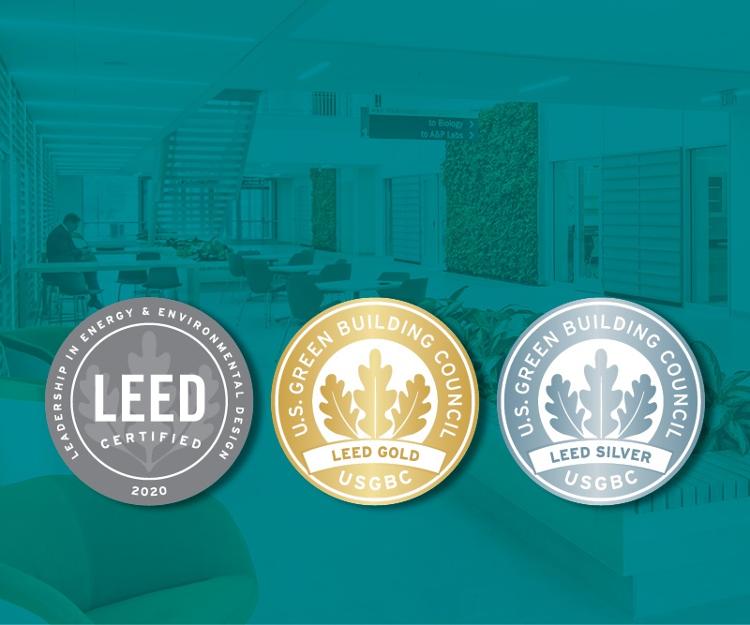 Teal is the top color at Cuyahoga Community College (Tri-C®), but green is quickly making its own presence felt.

Tri-C's recent wave of new construction highlights its commitment to "green" building — a commitment that has shaped campus planning for well over a decade. The College now has eight structures with LEED certifications, a globally recognized symbol for sustainability achievement. Another is in the review process.

The new buildings minimize impacts on the environment, save the College money through lower utility bills and offer an invigorating academic setting as students utilize the latest technology to train for the jobs of tomorrow.

"As a taxpayer-funded entity, we want to be a good steward of financial resources as well as the environment," said David November, Tri-C's sustainability manager. "We want buildings that can allow us to do that for many decades."

LEED (Leadership in Energy and Environmental Design) certifications are issued by the U.S. Green Building Council. New commercial and public construction can be submitted for consideration, which is conducted by analyzing the new building according a series of criteria attached to a point system.

A total of 110 points is available. A minimum of 40 points is needed for basic LEED certification. A 50-point total will earn LEED Silver certification, 60 points for LEED Gold and 80 points for LEED Platinum.

Some criteria are region-specific. Buildings in the Cleveland area receive extra points for responsible management of stormwater runoff in an effort to reduce the amount of ground pollution that drains into Lake Erie.

Stormwater drainage plans were incorporated into projects at the Metropolitan and Westshore campuses — the two closest to the lake. One of the College's most recent certifications March was for the Liberal Arts and Technology building at Westshore.

"Impermeable areas like parking lots flow into retention ponds at Westshore Campus to allow water to naturally drain into the ground," November said. "At Metro, we took advantage of the permeable sandy soil the campus is built on. The courtyard adjacent to the new Campus Center has permeable areas that allow water to drain into the soil underneath."

In addition, the Advanced Technology Training Center at Metropolitan Campus has nearby drainage basins for water runoff. Opened in 2011, it was among the first Tri-C buildings to receive LEED certification in 2013.

However, as important as outdoor features like stormwater runoff are, the quality of the indoor environment is the biggest area of focus in Tri-C's new building designs — and it goes beyond energy savings and reducing waste.

When you walk into Tri-C new buildings, some common themes become apparent. Abundant windows and even skylights let in large amounts of natural light. Locally produced artwork and plants occupy prominent positions to enhance the visual aesthetic.

There is also a lack a of that "new building" smell due to a reduction in volatile organic compounds (VOCs) in carpeting and paint. It makes the air healthier to breathe while ridding it of offensive, distracting odors.

The idea is to create an immersive experience, using the buildings' sustainable features to create an environment conducive to learning.

"You think about the impact that your surroundings can have on your senses, and we've taken that into consideration with our designs," November said. "We wanted bright interiors that take advantage of natural light, a healthy indoor air quality and interesting artwork that makes it a stimulating, energizing place to learn and work."

Look closer, and you'll notice that interior lights are almost exclusively LED fixtures. Restroom fixtures are high-efficiency, limiting the use of water.

Each of these details brings a cost savings for building operations, trimming utility bills by tens of thousands of dollars per year to ease the College's budget. But November says that's not the sum total of the impact.

The College's new buildings were designed with the idea that LEED-certified structures do more than just manage the use of resources. They create healthy, pleasing environments that increase Tri-C's value as an educational resource.

"These are public buildings open to everyone, so we wanted to build a space that people want to be in," November said. "We want to create spaces that are great for learning and welcoming for the community, both now and years into the future."

This story can also be found in the Spring 2021 edition of Tri-C Times.
May 03, 2021
Erik Cassano, 216-987-3577 or erik.cassano@tri-c.edu