Talking About Tri-C's Expanding Role in Building a Better Northeast Ohio
College President Alex Johnson visits WCPN to discuss Tri-C Access Centers and workforce programs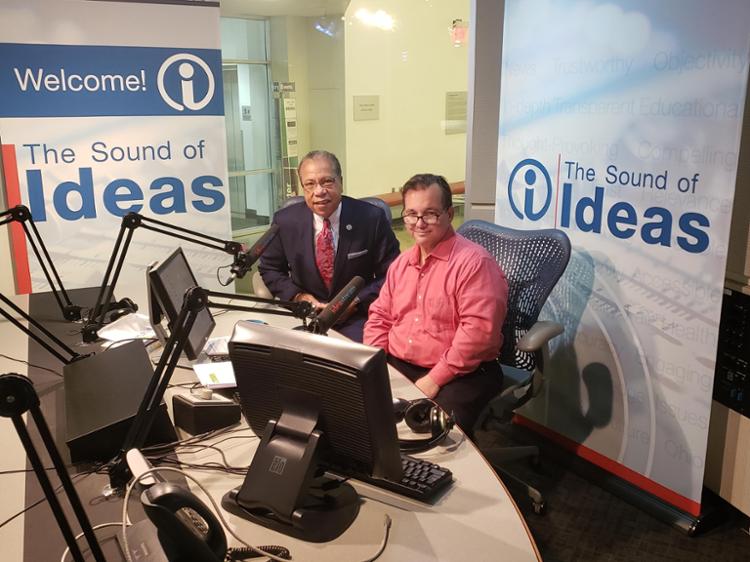 Cuyahoga Community College (Tri-C®) offers more than higher education. It also serves as an economic engine for Northeast Ohio, providing advancement opportunities for individuals and businesses.
That's the idea behind the opening of Tri-C Access Centers and the expansion of workforce training programs in fields such as information technology, health care and manufacturing, College President Alex Johnson said.
The initiatives, he said, represent "an investment in the future of Greater Cleveland."
Johnson visited the Idea Center studios at Playhouse Square on Oct. 24 to talk about Tri-C's expanding role in the community. The discussion with host Mike McIntyre aired on The Sound of Ideas show on WCPN/90.3 FM.
McIntyre opened the show by citing a report that estimates 65% of all jobs will require some sort of post-secondary education by 2020. Community colleges, he said, play a critical role in meeting that demand.
In the past few years, Tri-C has launched multiple programs to create clearer pathways to graduation. The efforts brought immediate results, with graduation numbers climbing to record highs.
The College awarded nearly 4,300 associate degrees and certificates last year, plus more than 19,000 workforce credentials.
Every graduate leaves Tri-C with a better chance of landing a job with family-sustaining wages. Johnson said this will help people "not only gain economic prosperity, but attain the American dream."
To hear the full discussion, visit www.ideastream.org or click here.
October 24, 2019
John Horton, 216-987-4281 john.horton@tri-c.edu