Taking a Chance on a New Career
Karen Brej lands a new job while earning associate degree in accounting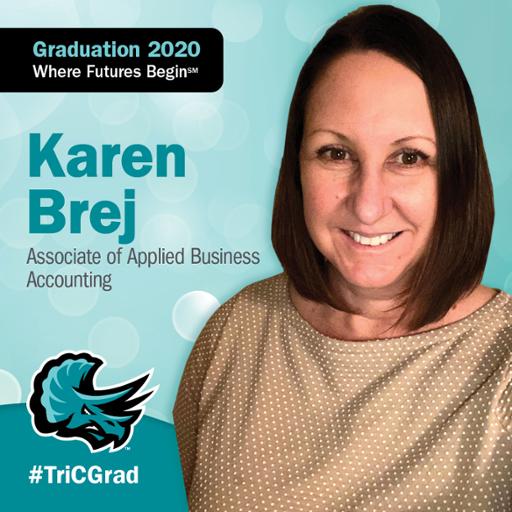 Deciding to change careers in your 50s takes more than guts — it also takes support.
Karen Brej, 51, felt that she had done all she could do in her office job at a small manufacturer. She wanted something challenging. After taking some personality assessments, she decided accounting was the right fit.
So last year, Brej took a chance and enrolled at Cuyahoga Community College (Tri-C®).
"It was a little scary," the Medina resident said. "I'm the only breadwinner in my house. Me having a job is important."
Her bold move paid off. Brej is set to graduate from Tri-C this month with an Associate of Applied Business degree in accounting. She already has a job in the field, too.
The single mother of three teenage boys said online classes gave her the flexibility to make it work. The College's career services gave her confidence.
"Career Services was outstanding," she said. "Because I was 51, I was nervous about changing jobs, about people not hiring me because of my age, about wasting money. Boot camp for resumes and interview skills showed me what employers are looking for. I came out of it confident that this was all going to work out."
Once she started circulating resumes, Brej was getting two to five interviews each week. In August, she started working at a small accounting firm.
Tri-C instantly stood out to Brej given the individual attention offered to students. A phone call from a professor to discuss the program sealed the deal for her.
"I've had that personal-touch experience through all four semesters," she said. She maintained a 4.0 GPA during her time at the College.
Brej, who enjoys cycling and hiking in her limited free time, said that her new career is just right: "I feel like I've found my people. I found my place. It's a really nice fit for my personality. It's definitely challenging."
She plans to pursue CPA certification to add to her credentials, but right now she is just happy to see a commencement date on the calendar.
"I'm very excited. It's been a long haul," she said. "I would get up at 5 a.m. and take care of the household and make the day's dinner before work, then study and do house things in the evening. Saturday and Sunday, I'm doing homework. I only rode my bike twice this year."
That's about to change, and Brej is excited to get back in the saddle.
Cuyahoga Community College will celebrate the academic achievements of its newest graduates during a Dec. 17 virtual commencement ceremony. Check our News and Events page leading up to the online event as we highlight members of the Class of 2020.
December 03, 2020
Jarrod Zickefoose, 216-987-4750 jarrod.zickefoose@tri-c.edu