Super Effort: Tri-C Helps Fox 8 'Stuff the Bus' for Local Schoolchildren
College contributes to record-breaking drive of school supplies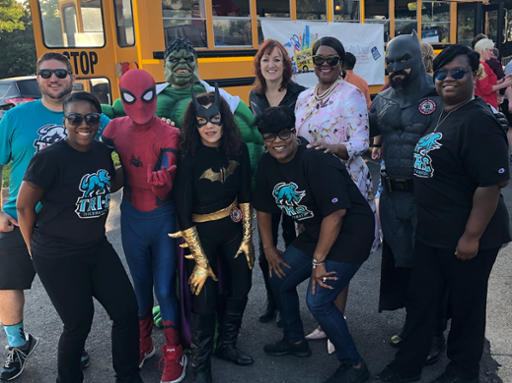 Cuyahoga Community College (Tri-C®) received some "super" assistance while dropping off supplies to help thousands of students begin a new year of learning at schools across Cuyahoga County.
Batman and other superheroes lent a hand Aug. 9 as Tri-C added to Fox 8's Stuff the Bus collection drive. A segment aired by the station caught the caped crusader in the act.
Given the contribution from Tri-C staff, it's easy to see why Fox 8 called in extra muscle. The College crammed donation boxes with hundreds of backpacks; 1,000 folders; 1,500 boxes of crayons; 1,600 notebooks; 4,500 pens and pencils; and … well, you get the picture.
"It's critical that students receive the tools needed to succeed in the classroom," said JaNice Marshall, Tri-C's vice president of access, learning and success, who spoke with Fox 8's Kenny Crumpton during the drive. "Each donated item removes a potential barrier to education."
The generosity shown by the College and Northeast Ohio residents, businesses and organizations filled a record 16 buses at Fox 8. This is the 13th year that the station has held the drive.
The collected items were taken to the Cleveland Kids in Need Resource Center, which will begin distributing supplies to students in time for start-of-school lessons. The center serves more than 10,000 children.
August 13, 2019
John Horton, 216-987-4281 john.horton@tri-c.edu