Success is Baked Into 10KSB
The 10,000 Small Businesses program helped Amy Mucha turn her side hustle into a thriving business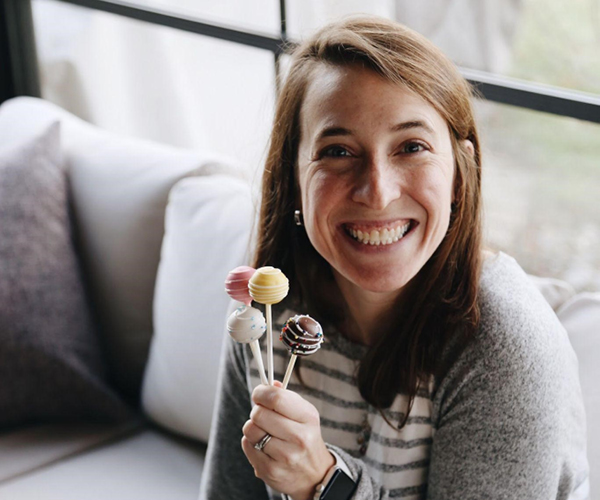 Amy Mucha, owner of Daisy Cakes in Kent, Ohio, went all in for her very first business class, applying to the Goldman Sachs 10,000 Small Businesses program (10KSB) at Cuyahoga Community College (Tri-C®).
"It has been a breath of fresh air to learn from instructors involved in their own businesses," she said. "The program is challenging me to think of different ways to grow my business and imparting skills and knowledge that I can implement when it's time to expand."
That time is now at hand, with Daisy Cakes slated to transition from a home bakery into a storefront and commercial bakery in early 2022.
"Having our own space will allow us to ship nationally, get our pops on the shelves at grocery stores and host cake-pop events and workshops," Mucha said, adding that she plans to increase sales 25% by the end of 2022.
(For the uninitiated, cake pops are made from simple boxed cake mixes that are baked, cooled and then placed in a food processor with a little frosting. The resulting dough is rolled or sculpted into shape by hand, set on a lollipop stick and dipped in melted chocolate or a candy coating. Decorations are then piped, drizzled, placed or sprinkled onto the pop to create an edible work of art.)
Mucha, a high school math teacher, had baked cake pops for years, but only for friends, family and her students. In 2018, after dozens of people urged her to try selling them, Mucha finally launched Daisy Cakes, named for her 5-year-old daughter. But it still remained just a "side hustle."
COVID-19 changed that. The pandemic made individually wrapped treats even more popular while also carving away Mucha's favorite parts of teaching — allowing her to envision stepping away into a new career.
She applied to 10KSB after hearing about it from friend and program graduate Annie Skoch, owner of Anne Cate, a manufacturer of purses and other accessories in Mentor.
Mucha said 10KSB taught her to aim higher than she thought possible. "Even if you don't quite reach the goals you set for yourself, you'll probably still be further ahead than you had imagined."
She also learned that knowing every aspect of her business is crucial. "Not that you necessarily have to do all your own taxes or some of the nitty-gritty details like that," she said, "but at least being familiar with these processes and having the ability to talk intelligently about them will get you far."
December 20, 2021
By Anthony Moujaes, 216-987-3068 or anthony.moujaes@tri-c.edu