Success at Tri-C is Par for the Course
Youth in The First Tee of Cleveland program take swing at cooking lessons at Tri-C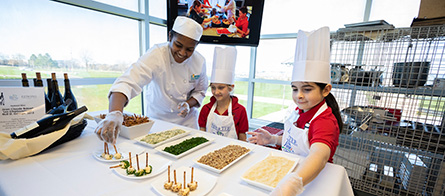 Core values such as confidence, courtesy and respect served as the main ingredients in cooking lessons that children in The First Tee of Cleveland program took through Cuyahoga Community College (Tri-C®).
The First Tee is a character development program that uses the game of golf and other activities to teach youth life and leadership skills. Participants wedged how-to-cook classes with Tri-C onto the winter schedule.
Pat LoPresti, executive director of The First Tee of Cleveland, said the partnership with the College's Hospitality Management program aligned perfectly with the organization's mission. 
"It doesn't matter if a participant has a whisk or a 7-iron in their hand to learn how to work together, respect others, create goals and make their own personal par in everything they do," LoPresti said.
Assistant professor and chef Tom Capretta directed the project and involved culinary students including Susan Barlow and Chantel Burse, who worked with the children over six weeks teaching basic cooking skills.
The lessons culminated in dishes served at The Taste of the Tee fundraising dinner held in April at Tri-C's Café 4250 at Eastern Campus in Highland Hills.
The First Tee of Cleveland recognized the efforts of Barlow and Burse with $500 scholarships from the August LoPresti Fund. The fund honoring Pat LoPresti's late father rewards students who make a difference in the lives of others.
"Both Sue and Chantel represent my father's philosophy to always give more than anyone would expect," LoPresti said. "They exceeded our expectations and really helped demonstrate core values and professionalism in every class."
Burse, of Cleveland, will graduate from Tri-C in May with an Associate of Applied Business degree in Hospitality Management/Culinary Arts. She will also earn certificates as a professional baker and personal chef.
Barlow, of Broadview Heights, expects to graduate by 2020.
May 07, 2018
Leanne van Beers-Werneke, 216-987-2201 leanne.van-beers-werneke@tri-c.edu