Staying the Course
U.S. Army veteran Timothy Kelly overcame obstacles to earn a degree and pursue a career in social work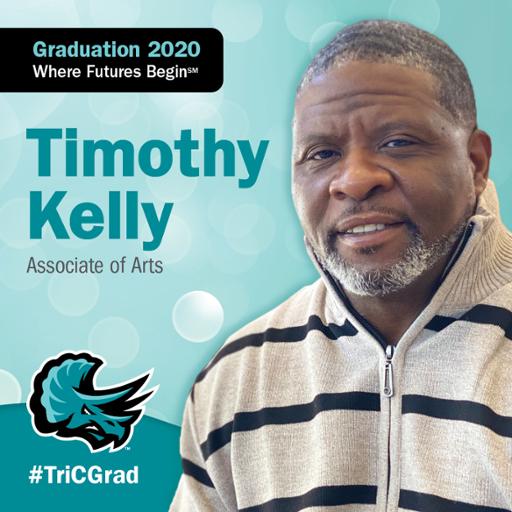 Finish what you started. As Timothy Kelly's life crumbled around him a few years ago, he reflected on those four words. He heard the message often while taking classes at Cuyahoga Community College (Tri-C®). It took on new significance after his mother passed away.
"My three-year plan with Tri-C turned into a six-year plan," Kelly said. "But that's OK."
Because he did finish what he started. The 56-year-old U.S. Army veteran will graduate from Tri-C this month with an Associate of Arts degree. In the fall, he plans to begin working toward a bachelor's degree in social work at the University of Akron.
Such a future once seemed unlikely for Kelly.
The Cleveland man said he lost his purpose after serving 12 years in the military with multiple tours in Kuwait, Iraq and Bosnia. He talked of spending two decades as a "wanderer," isolating himself with drugs and alcohol while dealing with the effects of PTSD.
Kelly began turning things around after seeking help from the U.S. Department of Veterans Affairs and enrolling at Tri-C. He set his sights on becoming a social worker to repay the help he received.
He started well, struggled after his mother's death, and then recommitted himself to his courses.
Today, Kelly balances his classwork with a full-time job as a resident assistant at an inpatient treatment facility. He also serves as a certified peer specialist, supporting other veterans struggling with mental health issues, psychological trauma and substance abuse.
"I've always been a helper," he said. "Even when I was at my worst."
Kelly credits his success to working hard and not giving up. To stay on track, he writes his goals on pieces of paper and posts them on doors around his house. He has even drawn his future office — including everything he plans to put on his desk — so that he can visualize his next step.
He expressed gratitude for the counselors, instructors and Veterans Education Access Program staff he worked with at Tri-C. He says they saw something in him that he did not see in himself.
"I want those who helped me to know what they do matters," he said. "I want to succeed for them."
Cuyahoga Community College will celebrate the academic achievements of approximately 2,500 graduates on May 14 during a virtual ceremony. Check our News and Events page in the days leading up to the online event as we highlight members of the Class of 2020.
May 07, 2020
Katie Utrata, 216-987-4582 katie.utrata@tri-c.edu