State of the College Q&A With President Alex Johnson
Looking back on the past year and ahead to 2019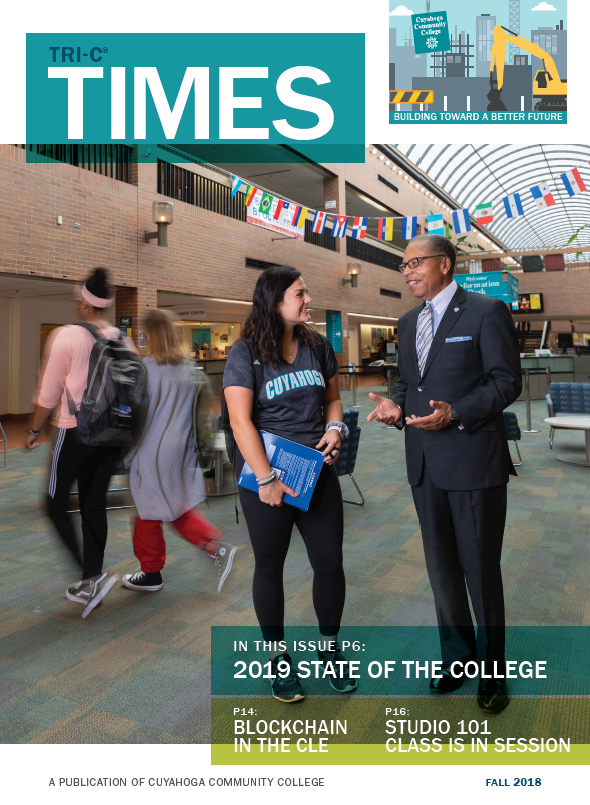 "It seems every year I say that the previous year was one of the best in the history of the institution - and last year was no exception. When we look back, there is a great deal to be proud of thanks to the efforts of the College's faculty and staff."
- Tri-C President Alex Johnson
Tri-C Times sat down with College President Alex Johnson for a Q&A about the State of the College as we look ahead to 2019. Spoiler alert: President Johnson expects the positive momentum seen over the past 12 months to continue in the year to come.
The interview is the cover story for the fall 2018 edition of the magazine.
Tri-C Times: This past year seems like it has been a significant one for Cuyahoga Community College. What stands out to you?
AJ: During the 2017-2018 academic year, Tri-C awarded a record 4,444 degrees and certificates. We improved our fall-to-fall retention rate by 3 percent from the previous year, keeping more students on the path toward graduation. We also improved the rate of students completing gateway math courses by 3 percent.
Most significantly, however, we have worked to increase our three-year graduation rate as tracked by the federal government. While this reflects just a portion of our students, it is a major yardstick of quality upon which we are judged. When I came to the institution in 2013, this rate was 4.5 percent. Five years later, it has grown to almost 19 percent. This is a tremendous achievement on the part of my colleagues. It has involved a great deal of hands-on, one-on-one work with students to ensure they have the support they need to complete their educational goals.
We will continue to push that rate higher over the coming years. Our goal for 2020 is to reach 22.5 percent, which is reflective of the average among our peer institutions nationally. Of course we want to go beyond that, since we are not satisfied to be merely average. But we are very pleased with the progress we have made in a short period of time.
TCT: The College also hosted an accreditation site visit and review this year. What was the outcome of that process?
AJ: We had a highly successful site visit from the Higher Learning Commission as part of our regular accreditation review process. We received the highest score possible in each of the five categories in which we are evaluated. Very few colleges receive this kind of validation. Again, this is reflective of the hard work and excellence demonstrated by our faculty members and many individuals in the administration. Their efforts reflect Tri-C's commitment to academic quality and continuous improvement.
TCT: Last year, you spoke about the significance of the passage of the College's capital bond. What work has been done since then?
AJ: The passage of our capital bond last fall — with 68 percent approval in Cuyahoga County — was a tremendous show of support from our community and a vote of confidence in the College. We have been using that funding wisely, beginning numerous projects that will modernize our campuses. These new and renovated buildings will provide the tools we need to offer relevant and essential training for the jobs of today and tomorrow while keeping a Tri-C education affordable.
Signs of this progress are apparent across the College. Work is nearing completion on the Metropolitan Campus Center, which — along with significant plaza improvements — is transforming our downtown campus. We celebrated groundbreakings at the Western and Westshore campuses for projects that are improving our facilities for science, technology, engineering and mathematics (STEM) education; public safety and automotive technology training programs; and student access to support services. Additional construction is waiting to begin at Eastern Campus and elsewhere.
TCT: Community colleges are increasingly mentioned in discussions about economic development nationally. How is Tri-C contributing to those goals in Greater Cleveland?
AJ: As community colleges, we see ourselves in a climate with great opportunities to promote the overall well-being of the communities we serve. I am privileged to sit on the board of directors for the American Association of Community Colleges, and each time we meet, I learn about other community colleges and the great things we are doing as a sector.
We have an important role in workforce and economic development. The unemployment rate in Cleveland remains at about 7.4 percent, even as the national average has dipped to less than 4 percent. At the same time, though, we continually hear from employers frustrated that they cannot find workers with the necessary skills for available jobs. For this "skills gap" to close, it is essential that we connect workers to Tri-C programs and apprenticeship opportunities that provide the training needed for in-demand occupations.
The College's award-winning Manufacturing Center of Excellence stands as a national model and catalyst for workforce solutions. Our Information Technology Center of Excellence is partnering with giants in the industry — Apple, Google, IBM and Microsoft, to name a few — to attract and train talent for the IT field. Health career programs at Tri-C remain robust and rank among the best in the country at producing successful graduates. Other fields of focus include truck driving and logistics, hospitality and public safety.
TCT: How will Tri-C improve access to higher education?
AJ: We need to remove barriers to entry in order for people to take advantage of the opportunities offered at the College. It is great that we are getting students to graduation in a timely manner. But without access, there is no success. And in that regard, we face a significant challenge.
Since 2013, community college enrollment nationally has declined at a significant level. Nationally, colleges have experienced a decline in students straight out of high school up to age 24. Tri-C hasn't seen that; our enrollment among younger students has been level. But the largest decline has been among individuals 24 years and older. This has been seen across the nation's Midwest and Northeast regions, and Tri-C has mirrored its peers in this regard. We need to help this population understand that they can benefit from the power of a Tri-C education. They need to know what is achievable.
This year, we launched a new strategic plan developed through unprecedented involvement from more than 1,800 individuals across the institution — including more than 1,000 students. The four-year plan builds on a foundation of access, equity and success and focuses on the student experience, affordability, workforce, the community and the College's brand and image.
Affordability continues to be key. Even with a modest tuition increase for the fall semester, Tri-C is the most affordable college in the state of Ohio. This is the first time in the history of the institution that we can say that, and it is an extraordinary testimony to the commitment of our Board of Trustees and my colleagues to keep higher education affordable and accessible to our community.
In addition, through our partnership with the Cuyahoga Community College Foundation, we awarded a record $3.2 million in scholarships. We have helped students with the Care Team Cash initiative, which empowers our front-line staff to provide students with the resources they need on the spot to overcome obstacles to their education. In the first year, we awarded more than $11,000 to students in Care Team Cash.
When we talk about access, we have to think about a number of different things —  not just how students come into the institution, but the entire student journey as well. We have identified six dimensions of access: Connect, Convert, Enter, Learn, Retain and Complete. We believe that the results of our accreditation process show that we have learning in the classroom well in hand. Our progress toward increasing our completion rate and numbers is evident, so the other four dimensions are where we are focusing our activity this year.
"Connect" represents how we reach prospective students in the community with the value of a Tri-C education. "Convert" is helping those individuals to become registered students, supporting them through the decision and application process. "Enter" represents removing obstacles or barriers for students. As I indicated, we have already been doing this through a variety of initiatives, but we are beginning to focus on it in a more intentional and comprehensive manner. Finally, "Retain" —focusing on the retention of students as much as we have focused on completion. We are already working to put more of an infrastructure behind retention so that more students stay at the institution, complete their programs and ultimately attain family-sustaining and productive careers in our community.
This is our sense of urgency and the focus of our work for the coming year. We have already identified and are training Access Champions across the College, from my President's Cabinet throughout the administration, faculty and staff. We have seen growth in our online offerings and are increasing our focus in that area. Our progress includes fully online degree programs and an online student assessment to ensure that students are prepared for the unique online learning environment. Look for that work to continue.
TCT: What are you most excited about for the year ahead?
AJ: The gains of the past 12 months provide momentum heading into 2019. We cannot — and we will not — be satisfied with these accomplishments if we are to best serve the Northeast Ohio community that generously offers the College its steadfast support. In many ways, our work is just beginning. So I am eager to see how we will improve access to higher education even as we strengthen our student success and completion efforts and add to the long list of Tri-C graduates. I look forward to seeing many of the ongoing construction projects reach completion to offer students enhanced educational opportunities that ensure their marketability in the workplace. Most of all, I am excited to see how my colleagues across the College respond to the challenges ahead. Their commitment to students and the institution, their willingness to collaborate across disciplines and sectors, and their innovative spirit are an inspiration to me. It is a privilege every day to be able to serve as their president as we work together to lead Cuyahoga Community College into the future.
December 20, 2018
John Horton, 216-987-4281 john.horton@tri-c.edu