'Stand for Racial Justice' High School Essay Contest Winner: Elisa Unangst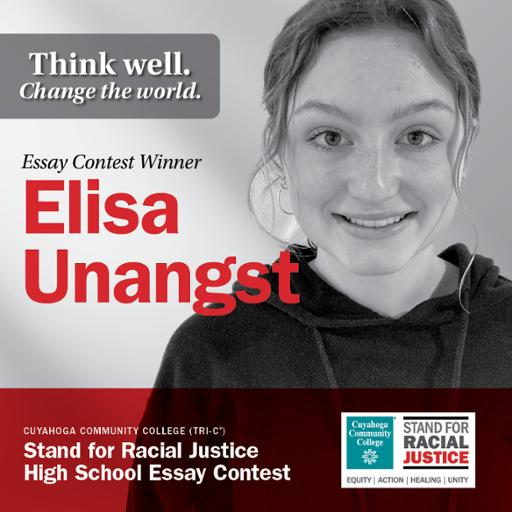 Cuyahoga Community College recently asked Northeast Ohio teens to weigh in on a question society often struggles to answer: What is racism, and what should we do about it? Nearly 200 students answered.
The following essay by Elisa Unangst of Twinsburg was the second-place winner in the sophomore-freshmen group. She is a student at Twinsburg High School.
Officer! Please do not shoot. Please don't sh —
Bodies crusted in crimson. Time is passing and people are too. Nearby witnesses howl as they sprint to survive. Victims of the violence lying on the cold pavement, waiting for their exit. Because one person with a gun decided the color of someone's skin made them "threatening," innocent lives are lost. Red and blue lights flash in the distance. Ironic how the enemies come to save them. This is racism and it needs to end.
There is a problem rooted so deep in the establishment of our nation that many people live as if their own skin color is superior. According to Merriam Webster Learner's Dictionary, racism is "poor treatment of or violence against people because of their race (or) the belief that some races of people are better than others." The definition is simple enough for children to understand, yet people frequently choose to ignore its meaning. It is easy to read these words and state racism's wrongfulness, yet somehow racism still exists.
As more people open their eyes to this predicament, a solution is vital. The wait to dismantle and demolish racism has been long. Ending racism starts with everyday people deciding they will not tolerate racism. Some ways to make a difference include confronting people who are being racist, amplifying the voices of people who are suffering, and teaching children that people still die because of their race. As a nation, it is important to speak up against racism, be willing to acquire new information, and most importantly mend the harm done to victims of racism.
As straightforward as this may seem, many humans are still actively racist. Change can only occur through self-reflection and people looking outside themselves. They may not know people who are harmed by racism or experience it firsthand. Having a personal relationship with people who experience racism makes me commiserate and advocate for their human rights. My family, my friends, members of my community, are all people who I adore and do not want to see being treated inequitably. When people understand the significance of their seemingly harmless behavior, they can understand the pain they have caused. Their actions have brought terror and often result in harm to innocent people (children, brothers, aunts, friends), sometimes killed and never coming back. If someone's actions would not be acceptable towards their own family, then they are not acceptable for anyone's family.
Will we strive towards doing better in this moment? Because in this moment of self-recognition we can make a change and join others to combat racial prejudice. We can join the transformation and the awakening of change in communities. Throughout this movement we work to heal those who have been hurt and inspire rising generations to follow in these long-awaited footsteps towards the good of all. This nation has the capability to demonstrate equality. Open your eyes and see beyond your own color. Anyone can learn from mistakes. Together we can end racism.
The Stand for Racial Justice High School Essay Contest was sponsored by Tri-C's Jack, Joseph and Morton Mandel Humanities Center in partnership with cleveland.com, The Plain Dealer and Sun News.   
January 15, 2021
John Horton, 216-987-4281 john.horton@tri-c.edu