'Stand for Racial Justice' High School Essay Contest Winner: Ava Parikh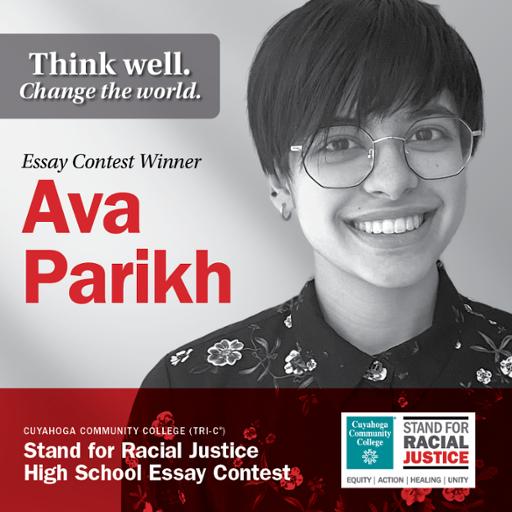 Cuyahoga Community College recently asked Northeast Ohio teens to weigh in on a question society often struggles to answer: What is racism, and what should we do about it? Nearly 200 students answered.
The following essay by Ava Parikh of Solon was the third-place winner in the senior-junior group. She is a student at Solon High School.
Racism is a marching system of slights, prejudices, biases, inequities, ignorance and violence. It is an instrument designed by human hands meant to justify the atrocities committed by past generations, religion, philosophy, morality and common sense again and again. It is a malware that has infected, contorted, and warped the very fabric of our society, all the way down to its roots, in the way we determine justice, in the way we supply education, in the way we make conversation, jobs, walk around town, love, teach, advertise and listen. Racism is a machine, a witless robot responsible for the pain of millions. And so, perhaps one way to chip away at the aluminum hide of this larger-than-life-unbelievably-immense-movie-villain evil automation that is far more real and pervasive than most on the big screen would have you believe is with a truly cinematic solution: a paradox.
What do we do about racism? We accept the paradox. We accept that an end to racism means respecting and fostering the entitlement of some while ending the entitlement of others. So too must we accept that racial, cultural and ethnic identity are deeply important and beautiful, but at the same time, they hardly mater. Furthermore, it is absolutely essential that we make certain people are heard, that their voices vibrate over streets and out of television speakers and in classrooms, and it is of equal importance that we stop listening to other people because they spout ignorance, hate and nonsense. Not to mention, mutually exclusive behaviors can be racist, depending on who you're talking to; sometimes expecting someone to be smart or loud or feisty is racist, sometimes it isn't. We have to accept that many situations are complex and incredibly difficult to understand, and that sometimes no nuance can possibly delude the simple facts of the matter. We have to accept that we have created an environment in which the statement "all lives matter" means that certain lives don't matter. We have to accept that there are many paradoxes (certainly more than are listed here), all of which contribute to the valiant effort to treat people like people because that is something We the People have failed to do. And we must accept that we almost certainly will not see an end to racism. We, you and I, right now are not going to beat the robot, no matter how many quips and studies we throw at it. But that doesn't matter, of course it doesn't. We may not win, but we do have to realize there is a flight, that it is our fight. Because any machine of man's own creation can be brought to its knees, an we can expect no less of ourselves. We are obligated to engage with these paradoxes because racism is a system of humanity's own creation and perpetuation, and because it is destructive to us. Racism is our responsibility, our nemesis.
The Stand for Racial Justice High School Essay Contest was sponsored by Tri-C's Jack, Joseph and Morton Mandel Humanities Center in partnership with cleveland.com, The Plain Dealer and Sun News.
January 15, 2021
John Horton, 216-987-4281 john.horton@tri-c.edu