Spring Commencement Celebrates Academic Success of Nearly 2,900 Graduates
Class of 2019 includes record number of College Credit Plus students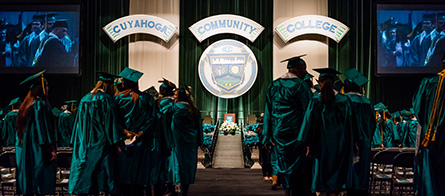 Cuyahoga Community College (Tri-C®) will celebrate the academic achievements of nearly 2,900 petitioning graduates during its Spring Commencement on Thursday, May 16.
The College has been asked to confer 2,897 associate degrees and certificates of completion at the graduation ceremony. The total reflects the College's commitment to student success and building a stronger community through education.
Among the graduates will be a record 45 teens who attended Tri-C through the state's College Credit Plus program and earned a degree or certificate before their high school diploma.
"Commencement is always an inspiring time at Tri-C," said Alex Johnson, president of the College. "The ceremony celebrates the life-changing power of education and the bright future for those who worked so hard to learn, grow and achieve."
The College will also award Honorary Doctor of Humane Letters degrees to Dr. Toby Cosgrove and George L. Forbes during the ceremony to recognize their commitment to the community.
Cosgrove served as CEO and president of Cleveland Clinic from 2004 to 2017, leading the organization to new heights of achievement and efficiency. Three successive U.S. presidents have consulted the renowned surgeon and administrator on health care issues.
Forbes built a professional career characterized by a deep commitment to community. His lengthy resume includes decades of elected service on Cleveland City Council and leadership of the city's NAACP chapter. In 1971, he co-founded Cleveland's first black-owned law firm.
The student speaker at commencement will be 63-year-old Susan Barlow of Broadview Heights, a longtime diabetes educator and advocate who followed her passion for cooking to Tri-C's culinary program.
Barlow will graduate from Tri-C with an Associate of Applied Business degree in culinary arts and three professional certificates. She said the College's Women in Transition program inspired her to return to school and pursue a second career.
Classmates selected Barlow to serve as student speaker at the ceremony and share her inspirational story. Visit the College's Spring Commencement page to read other graduate stories from the Class of 2019.
Tri-C's Spring Commencement will begin at 6 p.m. Thursday at Cleveland State University's Wolstein Center, located at 2000 Prospect Ave. in Cleveland.
May 15, 2019
John Horton, 216-987-4281 john.horton@tri-c.edu