Special Delivery: Tri-C Culinary Students Make Meals for Medical Workers
Banquet class brings soup and dessert to doctors and nurses at Lutheran Hospital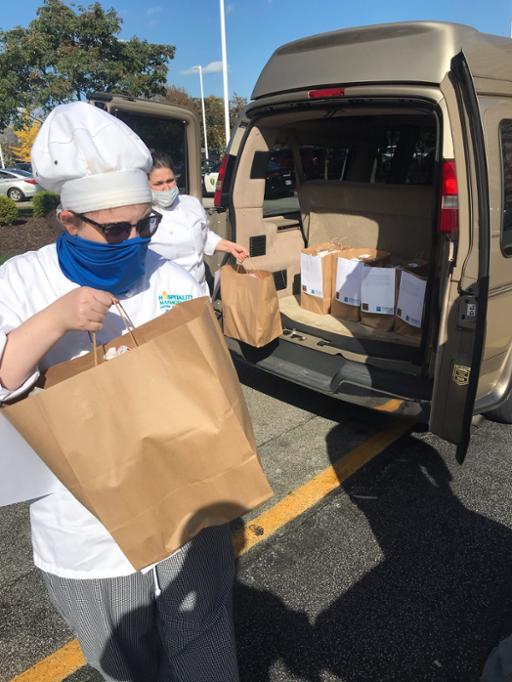 A person can work up a hunger saving lives. That's why culinary students from Cuyahoga Community College (Tri-C®) keep cooking for the frontline medical professionals at Lutheran Hospital. 
The College's banquet class recently made, packaged and dropped off 65 pints of carrot ginger soup at the West 25th Street hospital. The lip-smacking order also included dozens of miniature apple turnovers for dessert. 
The Oct. 25 delivery followed a September food run to Lutheran Hospital to say "thank you" to doctors and nurses. 
The students partnered with Lucky's Café in Tremont on the goodwill project. The restaurant donated soup containers as part of its ongoing effort to support medical professionals during the COVID-19 pandemic. 
Sissy Kelly of Parma covered the costs for the most recent batch of soup, while Zeppe's Tavern in Newbury Township donated supplies for the apple turnovers. 
The banquet class focuses on cooking for large groups and typically hosts fundraising dinners for local nonprofits for training opportunities. Restrictions due to the COVID-19 outbreak, however, upended plans for those events. 
Goodwill projects filled the void, said Ky-Wai Wong, an assistant professor at Tri-C's Hospitality Management Center of Excellence who leads the class. 
Aside from teaming with Lucky's Café on two meals for Lutheran Hospital, the class also has made lunches for the West Side Catholic Center and cooked up a BBQ dinner for the College's annual giving campaign. 
"The students are getting the experience they need in the kitchen while helping someone at the same time," Wong said. "These are important lessons in more ways than one." 
The banquet class adds to the community-minded activities from the culinary program this fall. Tri-C's student-run restaurant, Alere, has been making meals twice a week for the St. Malachi Parish Back Door Ministry.
October 29, 2020
John Horton, 216-987-4281 john.horton@tri-c.edu