Signs of Life
C. Jean Mosley Hall uses intimate knowledge of deaf language, culture to prepare interpreters for workforce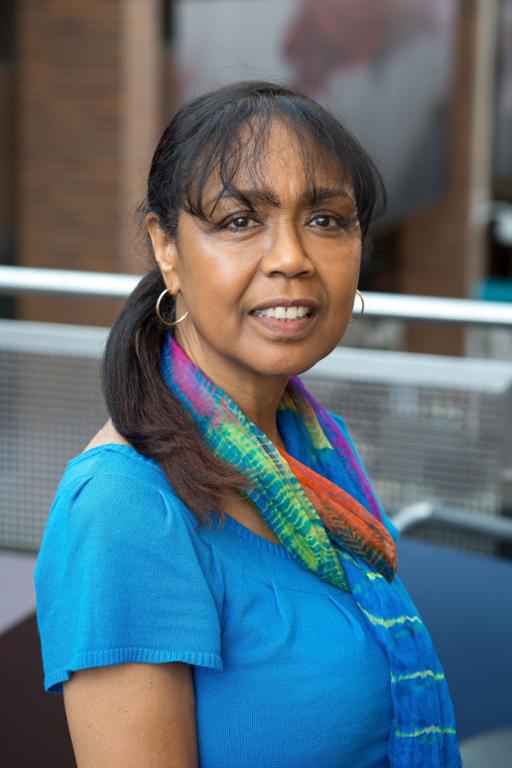 The word vocation has two meanings. The first is "calling"; the second, "career." Both apply equally to Cuyahoga Community College professor C. Jean Mosley Hall's vocation — teaching American Sign Language.
"I don't think I really chose it," she said. "It chose me."
As the only child of profoundly deaf parents, Hall grew up straddling two worlds — one of sound and one of silence. Familiar with the nuances and cultural expectations of each, she became adept at switching between them.
"It was similar to growing up bilingual," she said. "I signed when I was with my parents, but I spoke when I was with others."
When Hall was four years old, her mother left the family. Her father, James Paris Mosley, became solely responsible for raising his daughter in addition to working long hours as a shoe repairman. His shop, Mosley's Shoe Hospital, sat next door to their home in Dover, Delaware.
"I spent a good amount of time there, too," said Hall. "I had a little table and chairs, and he would teach me signs for the alphabet, numbers, animals … all sorts of things."
Customers could usually pantomime what they needed when they entered the shop. But if their request was out of the ordinary, Hall would help by interpreting for her father.
She helped him navigate other situations, too — some of which she knows he wouldn't have exposed her to if it hadn't been necessary. Medical appointments or financial discussions, for example.
"My childhood was kind of truncated, because I was thrown into these more 'adult' situations," Hall said. "But I think knowing my dad depended that much on me actually helped me realize my own independence — that I could do pretty much anything if I could just figure out how."
At 15, Hall was singing lead in a traveling youth gospel choir when she met her future husband, Howard. Three years her senior, the choir's new pianist encouraged Hall to pursue higher education — something she hadn't even considered before.
"I said, 'Nobody in my family has done that. We don't have money for that,'" she said. "But he told me we'd figure it out."
Hall secured a singing scholarship after graduation, and her father took out a loan. Four years later, she received a bachelor's degree in business from Delaware State University.
But she wasn't sure where to go from there. Howard wisely suggested that she look within herself for the answer.
"He helped me see my fluency in ASL [American Sign Language] as an asset," Hall said. "He said, 'You have this skill — why would you let it go to waste?' So instead of running away from it, I embraced it."
Hall decided to study deaf education at McDaniel (now Western Maryland) College and completed her master's degree in just one year.
She worked with blind and deaf children at schools in Delaware and New Jersey in the mid-1970s, assisting with the transition into public schools resulting from the passage of the Education for All Handicapped Children Act.
"The teachers didn't know what to do with them, so my job was to help provide materials and ideas for how to work with these children," Hall said.
She took her first higher education teaching position at Pennsylvania State University, where Howard, a behavioral psychologist, also worked. The couple moved to the east side of Cleveland in 1987, when Howard received a job offer from University Hospitals.
Hall brought her expertise to Tri-C's new Deaf Interpretive Services (DIS) program in 1999, after more than a decade teaching ASL at Cleveland State University (where she earned her Ph.D. in education). Today, she and DIS founder Debra Motley comprise the program's full-time teaching staff.
Hall teaches a mix of courses every semester, averaging seven classes each fall and five each spring. But regardless of how busy her schedule may be, her top priority is ensuring her students' success.
"Students come to Tri-C looking for a skill, wanting to work," she said. "You train them for two and a half years, and then they go out and become interpreters. You make a visible impact on their lives."
In particular, Hall's Native American and African American roots have allowed her to connect with students who might otherwise feel out of place or misunderstood in the classroom.
"There are very few students of color in interpreting programs, so having someone who looks like them, who understands them and their cultures, helps them feel more comfortable," she said.
Nearly two decades ago, Hall's intimate knowledge of the struggles deaf students face led her to develop a postsecondary scholarship fund through the Cleveland Foundation. Named in honor of her father, who passed away in 1984, the J. Paris Mosley Scholarship fund has supported more than a dozen students nationwide since its inception.
Hall's late father also inspired her most recent accomplishment — the November 2018 publication of Paris in America: The Story of a Deaf Nanticoke Shoemaker and His Daughter.
"It's part biography, part memoir," she said. "It's about my father's life, as well as our life together. There's talk about it being made into a movie."
This is hardly the future Hall imagined for herself as a young girl. She never thought she'd go to college, let alone earn a Ph.D. And she certainly never thought she'd make a career out of teaching people to help others the way she helped her father.
"It's been a phenomenal life," Hall said. "But the most rewarding part is being able to impact the lives of deaf people like my parents."
December 20, 2018
Beth Cieslik, 216-987-4538 beth.cieslik@tri-c.edu