Shining on the Diamond: Tri-C Ballplayers Catch Weekly Conference Awards
Lucas DiLuca, Lexi Rehm and Daniele Rivera honored for performances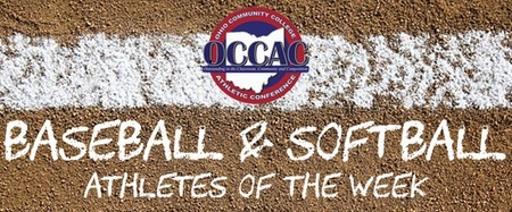 A teal tint coated this week's baseball and softball awards from the Ohio Community College Athletic Conference, as players from Cuyahoga Community College (Tri-C®) captured three of four honors.
Tri-C's Lucas DiLuca claimed baseball Player of the Week recognition while Lexi Rehm (Player of the Week) and Daniele Rivera (Pitcher of the Week) swept the softball awards for performances March 12-18.
Here's how they did it.
DiLuca batted .500 (7-14) with a home run and two doubles over six games. The second baseman added nine RBI and scored 10 runs to help lead the Challengers to a 4-1-1 record during the week.
The freshman from Windsor, Ontario, is in the College's Sport and Exercise Studies program.
Rehm hit .515 (17-33) with two home runs and three doubles as the Challengers posted a 6-2 record on the week. The third baseman totaled 12 RBI and 11 runs scored while also adding two stolen bases.
The freshman from Wooster is studying criminal justice at Tri-C.
Rivera made three appearances on the mound, picking up a win while allowing just two earned runs over 10.2 innings. She struck out four batters.
The freshman from Brooklyn is studying criminal justice at Tri-C.
Tri-C's baseball team is now 10-5-1 on the season, while the softball team is 7-3. Both teams play their homes games at Tri-C's Western Campus in Parma.
March 20, 2018
John Horton, 216-987-4281 john.horton@tri-c.edu