Scholarship Fundraiser Feeds a Need for Tri-C Culinary Students
'Small Bites, Big Dreams' event raises more than $50,000 for scholarships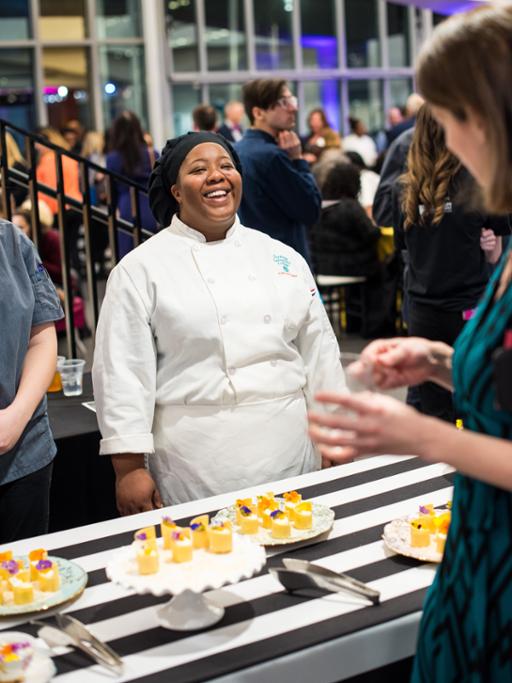 The Small Bites, Big Dreams scholarship fundraiser at Cuyahoga Community College (Tri-C®) filled more than stomachs. It filled a major need for students.
The March 5 event at the Metropolitan Campus Center raised more than $50,000 for Tri-C Hospitality Management students. The gathering was hosted by the Cuyahoga Community College Foundation.
More than 50 culinary students worked side by side with some of the city's top chefs at the event, preparing delectable dishes for the crowd.
Reporter Karlynn Wells of Spectrum News captured the tasty results in an on-air report.
This is the Tri-C Foundation's third Small Bites, Big Dreams scholarship event. It is designed to showcase the College's vital role in training the skilled workers needed to continue the region's restaurant renaissance.
"Tri-C has done a lot for me," Chef Eric Wells of Skye LaRae's Culinary Services told Spectrum News. "They have produced a lot of my employees that work with me right now, so I love to give back."
The College's dean of hospitality, Michael Huff, said dollars raised at the event help students turn their culinary dreams into realities. The Tri-C Foundation expects to award 60 scholarships from Small Bites, Big Dreams.
"This event impacts individual lives in that it helps support student scholarships and helps individuals connect to the industry and start a new career," he said.
Click here to view the full segment from Spectrum News.
March 11, 2020
John Horton, 216-987-4281 john.horton@tri-c.edu