Scholarship Dollars Keep Growing for Tri-C Horticulture Student
Kasandra Hernandez one of five across nation honored by Proven Winners program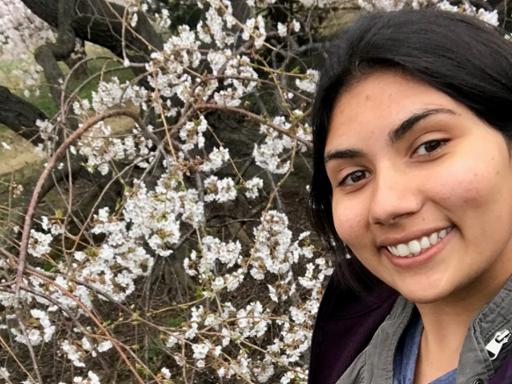 National honors keep sprouting on the resume of Cuyahoga Community College (Tri-C®) horticulture student Kasandra Hernandez.
The Proven Winners Horticulture Scholarship Program recently awarded Hernandez a $2,000 scholarship to continue her studies in the College's Plant Science and Landscape Technology program at Eastern Campus.
She was one of five honorees from technical or two-year colleges across the country.
In announcing the scholarship, Proven Winners quoted Hernandez as saying she wanted "to be a voice for the future 'green thumbs' of the industry and an exemplary leader for Hispanics who wish to pursue a career."
"Both of these goals go hand in hand in helping grow the industry as a whole," Hernandez said. "I see a great change and outlook if we can grow from the inside out and invest in those investing their lives in the industry."
Hernandez, of Cleveland, is set to graduate in the fall with an Associate of Applied Science degree and two professional certificates. She was part of a Tri-C team that placed third overall at this year's National Collegiate Landscape Competition.
The straight-A student has also received scholarships from the Irrigation Foundation, the Ohio Landscape Association, the Ohio Nursery and Landscape Association, STIHL and the Tree Research and Education Endowment (TREE) Fund.
September 24, 2019
John Horton, 216-987-4281 john.horton@tri-c.edu