Saluting Police: Tri-C Student Honors North Royalton Officers
Leo Negomedzyanov makes wooden 'thin blue line' flag for department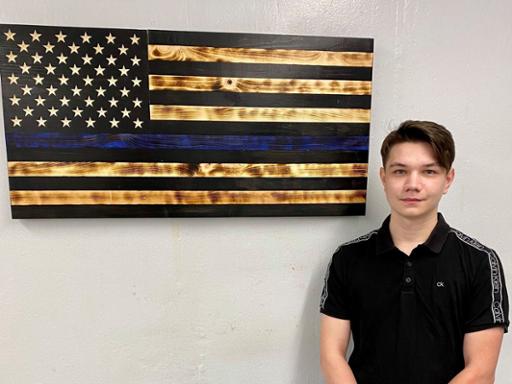 There's a simple reason why North Royalton police needed to talk to Cuyahoga Community College (Tri-C®) student Leo Negomedzyanov: They wanted to say "thank you" for his recent gift. 
Negomedzyanov gave the department a wooden wall hanging crafted to look like a "thin blue line" American flag that honors law enforcement officers. His creation now hangs in the department's roll call room. 
The computer science student who is interested in cybersecurity said he dabbles in woodworking. He uses his self-taught skills to make items for a local company, Northeast Ohio Workshop.
 The Royalton Recorder posted an Aug. 18 story about Negomedzyanov's gift to the police. Click here to read it. Negomedzyanov lives in North Royalton. 
"I just thought that's what I should do," Negomedzyanov told the newspaper. "All the news and what is going on in America right now, it makes me feel sad. So I made it, walked into the police department and gave it to them." 
North Royalton police showed their appreciation in a Facebook post that has drawn hundreds of likes and dozens of comments applauding the gesture.
August 20, 2020
John Horton, 216-987-4281 john.horton@tri-c.edu