Running Down a Dream
Tri-C Trustee Rachel Von Hendrix goes the extra mile for Women in Transition program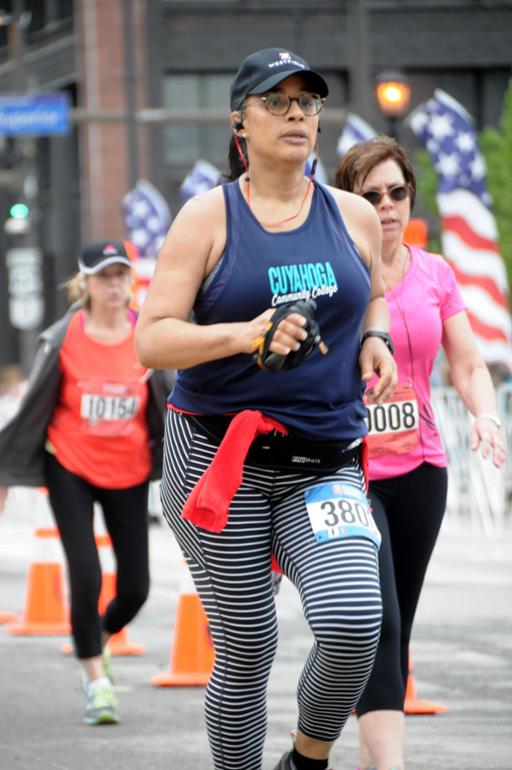 Rachel Von Hendrix heard the doubters after she registered for the Cleveland Marathon. "You can't run that far," people told her. "You're just going to hurt yourself. You're not going to make it."
The skepticism cast a large shadow as Von Hendrix ramped up training to run and raise scholarship money for the Women in Transition (WIT) program at Cuyahoga Community College.
"I kept thinking of the women I was running for," said Von Hendrix, a member of the College's Board of Trustees. "Whatever my struggle, it seemed like nothing compared to theirs."
Von Hendrix completed her third "Run for WIT" in May when she crossed the half marathon finish line on Public Square. Her step-by-step journey through Cleveland's streets raised more than $10,000.
Since first lacing up her running shoes in 2016, Von Hendrix has raised more than $26,000. Every dollar goes to WIT graduates who turn to Tri-C to pursue education, training and a career.
The Women in Transition program — currently celebrating its 40th anniversary at the College — works to empower women in transitional periods of their lives. The free course offers an opportunity for transformation. It puts dreams within reach.
Participants build confidence and skills through workshops on personal development, career exploration and financial and computer literacy. WIT operates at four Tri-C locations and typically serves more than 300 women a year.
"The course is designed to help women move their lives from a state of uncertainty toward clarity," said Cicely Campbell, director of WIT. "It's where women can find the support and strength to go forward and discover a new destiny."
The list of alumni after four decades easily numbers in the thousands. The roll call includes Regina Levine, who is Von Hendrix's mother.
Levine enrolled in 1980, two years after the Ohio Department of Education launched the program to aid women entering the workforce. It was originally known as the Displaced Homemakers Program.
Von Hendrix often accompanied her mother to classes at Metropolitan Campus.
"I remember how encouraging and positive the instructors were," said Von Hendrix, who was in elementary school at the time. "The program really spoke to me. I saw how people could grow."
Momentum from the program propelled Levine into a career that stabilized the family household, Von Hendrix said. Levine also continued her education at Tri-C and earned an Associate of Arts degree in 1987.
The same success stories take place today. Tierra Banks, a 2015 WIT graduate, said the program catapulted her toward a better future and gave her the confidence to succeed at Tri-C.
Funds from Run for WIT helped cover tuition for Banks as she worked toward her Associate of Arts degree. She intends to continue her education at Cleveland State University in the fall to pursue a bachelor's degree in social work.
Banks serves as executive director of Mended Inc., a nonprofit she founded to restore broken mother-daughter relationships.
"It seems like every opportunity I have had, every good thing that has happened, goes back to Women in Transition," said Banks, 31, of Cleveland Heights. "The program has meant everything to me."
That's the sort of outcome that fuels Von Hendrix when pounding out miles. She said she draws parallels between what makes runners successful — goals, persistence, discipline — and the lessons taught by WIT.
Her hope is that every program graduate encourages other women to believe in themselves and fulfill their potential.
"How many women can we open the door for?" Von Hendrix asked. "I want the answer to be all."
To donate to the Women in Transition Scholarship Fund aided by the Run for WIT, contact the Cuyahoga Community College Foundation at 216-987-4868.
July 26, 2018
John Horton, 216-987-4281 john.horton@tri-c.edu