Run for a Reason: Tri-C Autumn Blaze 5K Raises $9,000 for Nonprofit Agencies
More than 350 runners and walkers participated in Oct. 13 event at Western Campus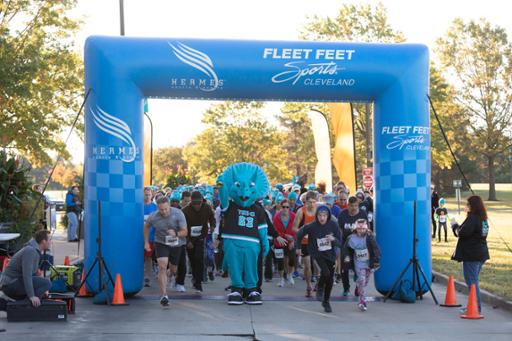 Three clear winners emerged at the Cuyahoga Community College (Tri-C®) Autumn Blaze 5K.
The race raised more than $9,000 to benefit Greater Cleveland Community Shares, the United Negro College Fund and United Way of Greater Cleveland. The money will be split evenly among the agencies.
The Autumn Blaze is part of Tri-C's annual giving campaign to benefit the community. More than 350 people registered for the 5K run and one-mile walk, held Oct. 13 at Western Campus in Parma.
The course wound across campus while highlighting the KeyBank Public Safety Training Center. Race results are available at www.hermescleveland.com.
This is the fifth year for the Autumn Blaze, which has become an October tradition at the College. Gold-level sponsors for the event included CDW-G, Hyland, Jimmy John's, MVP Plastics, Mythics and Rakuten OverDrive.
Tri-C's giving campaign benefiting the three nonprofits continues through the end of the year. Each selected agency has a history with the College and a proven track record providing services to community members in need.
This year's campaign goal is $137,500. More information is available online.
October 15, 2019
John Horton, 216-987-4281 john.horton@tri-c.edu