RUBBERBAND Dance Group Makes Ohio Debut with Tri-C, DANCECleveland
Tickets on sale now for Nov. 9 performance at Mimi Ohio Theatre at Playhouse Square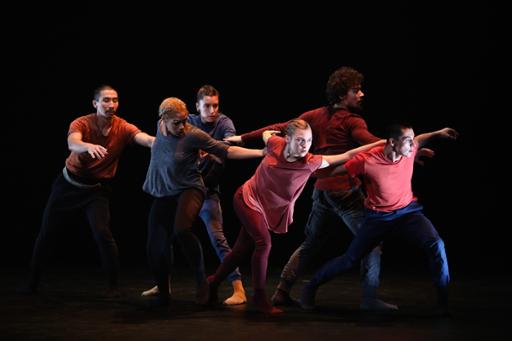 Experience the fusion of breakdancing, classical ballet and dance theater as RUBBERBAND Dance Group (RBDG) makes its Ohio debut in a performance co-presented by Cuyahoga Community College (Tri-C®) and DANCECleveland.
The Montreal-based dance troupe takes the stage at 7:30 p.m. Saturday, Nov. 9 in the Mimi Ohio Theatre at Playhouse Square. The program is part of the Tri-C Performing Arts season.
The stop comes amidst a tour crisscrossing the United States and Canada. The group — founded in 2002 by artistic director and choreographer Victor Quijada — is recognized worldwide for its innovative style.
RBDG deconstructs the principles of urban dance and mixes styles to create their own unique spin. In Cleveland, the group will perform Vic's Mix — a show that spans the immense creative territory explored by Quijada while offering both humorous and serious moments.
Tickets range from $25 to $50 and can be purchased at www.playhousesquare.org or by calling 216-241-6000. The show includes moderated pre- and post-show talks with performers and producers. (The pre-show chat begins at 6:45 p.m.)
This presentation is supported by the Arts Midwest Touring Fund, an Arts Midwest program funded by the National Endowment for the Arts, with additional contributions from the Ohio Arts Council.
While in Cleveland, RBDG will also take part in a free advanced-level master class for dancers ages 16 and older. The class begins at 5 p.m. Friday, Nov. 8 at Cleveland State University's Middough Building. Registration is required at www.dancecleveland.org.
Tri-C's 2019-2020 Performing Arts season features 10 productions showcasing classical piano, jazz and dance. It is designed to bring a world-class artistic experience to the Greater Cleveland community.
RBDG's performance is one of two shows in the series co-presented by Tri-C and DANCECleveland. In February, the organizations will bring the all-male French dance company Cie Hervé Koubi to Cleveland for its Ohio debut.
Visit www.tri-c.edu/performingarts for more information on that show and others in the series. To learn more about DANCECleveland, visit www.dancecleveland.org.
October 22, 2019
John Horton, 216-987-4281 john.horton@tri-c.edu