Rising to the Challenge
Shahzeb Malik earned two college degrees before graduating from high school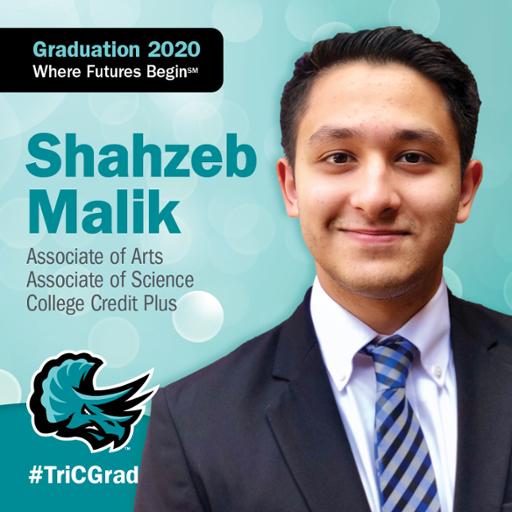 As a student at Strongsville High School, Shahzeb Malik was apprehensive about taking classes at Cuyahoga Community College (Tri-C®) — but not for the reasons that you might think.
He was worried they would not be challenging enough. That attitude changed quickly, however, during an Introduction to Psychology course on his first day at Western Campus.
"When I stepped into that first class, I immediately knew it was going to demand more of me," Malik said. "Tri-C was definitely something I wanted to double down on."
Malik, 18, has taken a lot of classes since. This spring, he will earn two degrees from the College — an Associate of Arts and an Associate of Science — before receiving his high school diploma.
He worked his way toward those achievements through the state's College Credit Plus program. The dual enrollment system allows teens to earn college credits while meeting high school graduation requirements.
"It's a great feeling," Malik said. "I saved on two years of costs and two years of life."
Along the way, he started a small media company, Unbranded Media; earned All-Ohio Community College Academic Team honors; and joined a select national group as a 2020 Coca-Cola Academic Team Scholar.
Malik is a classic polymath. He is entrepreneurial. His interests range from economics to superhero movies. At Strongsville High School, he played tennis and was in the show choir.
As a member of Phi Theta Kappa Honor Society at Tri-C, Malik worked on a project called "Transforming Students' Academic Identity and Their Decision to Drop." The study analyzed factors that helped community college students succeed.
It won a Best Team Project award for the honor society's Ohio Region.
"My philosophy: Set goals and exceed them," Malik said.
The son of Pakistani immigrants, Malik has had to overcome challenges such as prejudice and balancing the different worlds that exist inside and outside his home. He said he found constant support at Tri-C.
"Academics at Tri-C are unorthodox in the best terms I know," Malik said. "I received emails from professors. I was considered an adult. I was given respect and responsibility. Tri-C forces the student to stand on their own two feet, but has a hand on their back in case they slip."
Next up for Malik is Baldwin Wallace University, where he will start classes this fall. He said he might pursue a double major in business administration and economics. But he also talked about filmmaking, journalism and even politics.
"I have no idea what the endgame is," he said. "There is a saying, 'Man plans, and God laughs.'"
Cuyahoga Community College will celebrate the academic achievements of approximately 2,500 graduates on May 14 during a virtual ceremony. Check our News and Events page in the days leading up to the online event as we highlight members of the Class of 2020.
May 02, 2020
Jarrod Zickefoose, 216-987-4750 jarrod.zickefoose@tri-c.edu