Retired Tri-C K-9 Officer Argus Honored for Service
Four-legged officer's name appears on new Ohio Police K-9 Memorial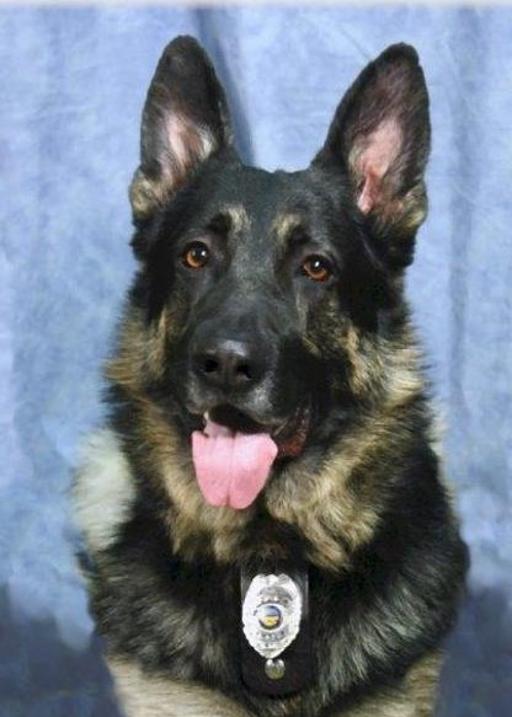 The name of K-9 officer Argus — who gave seven years of four-legged patrol to Cuyahoga Community College (Tri-C®) — is etched in black granite at the new Ohio Police K-9 Memorial in Amelia.
The memorial pays tribute to Ohio K-9s "who put their lives in jeopardy for little more than a pat on the head." The names of hundreds of K-9s, both living and deceased, fill the honor roll.
Argus served as a law enforcement officer and goodwill ambassador at Tri-C before retiring in 2014. He spent most shifts at Metropolitan Campus in Cleveland riding with his partner, Patrolwoman Anne Berry. He made appearances at other campuses when duty called. 
The 97-pound German shepherd was trained to sniff out explosives, track suspects and chase down anyone foolish enough to flee the law. He also excelled in the delivery of wet kisses throughout the campus community.
Berry attended the May 19 memorial dedication, which she called moving.
"It's wonderful to see K-9s getting this sort of recognition," Berry said. "They're so dedicated to the job and keeping the public safe. People don't realize all that they do."
Argus was donated to Tri-C's Campus Police and Security Services in 2007 by dog breeder and trainer Tom Schmidt. The German shepherd retired to a life of leisure on Berry's couch, where he can still be found today.
May 23, 2018
John Horton, 216-987-4281 john.horton@tri-c.edu