Removing Roadblocks to Success
Connor House has been persevering his whole life. He brought the same attitude with him to Tri-C.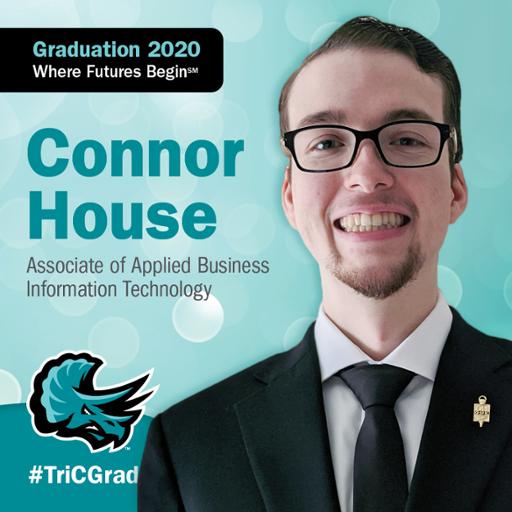 Due to a rare genetic condition called Klinefelter syndrome, Connor House needs to work harder to achieve his goals.
"The syndrome has various aspects, but the one that impacts me the most is an auditory processing disorder," he said. "Basically, if I'm having a long conversation with someone or trying to listen in class for long periods, I might have a more difficult time processing the information."
At Cuyahoga Community College (Tri-C®), House found the services needed to overcome that challenge.
He'll graduate from Tri-C this month with Associate of Applied Business degrees in cybersecurity and networking software, as well as an Associate of Applied Science in electronic engineering technology with a focus in network hardware.
"When I enrolled, I started going to the tutoring center [at Eastern Campus] and working with the Student Accessibility Services office," said the 23-year-old from Sagamore Hills. "They were a big part of the support system that helped me transition to college subject matter and a college workload."
In his time at Tri-C, House has been a stellar student ― a high achiever in the classroom and involved in a number of extracurricular activities. He served as president of the Phi Theta Kappa Honor Society campus chapter, co-founded the campus' IT Career Advancement Club and accumulated many awards, recognitions and memberships.
House credits his instructors and classmates with helping to give him both the knowledge and confidence to keep pursuing his goals.
"The faculty and students that I have encountered over the years have had a major impact on my college career," he said. "Words cannot express how much I appreciate them. They will do whatever is necessary to help you better understand a lesson and learn the material."
After graduating from Tri-C, House will attend the University of Akron to pursue a degree in computer information systems with a specialty in cybersecurity. But he'll continue to be grateful for Tri-C and the role the College ― and its people ― played in starting him down his career path.
 Tri-C isn't just there to give you some classwork and send you on your way," he said. "It's a wonderful community that supports you and pushes you to pursue more opportunities, both while you're here and afterward."
Cuyahoga Community College will celebrate the academic achievements of approximately 2,500 graduates on May 14 during a virtual ceremony. Check our News and Events page in the days leading up to the online event as we highlight members of the Class of 2020.
May 04, 2020
Erik Cassano, 216-987-3577 erik.cassano@tri-c.edu