Remote Possibilities: The COVID Transition to Online Learning
In March, Tri-C moved nearly 2,500 classes to digital platforms in the span of several weeks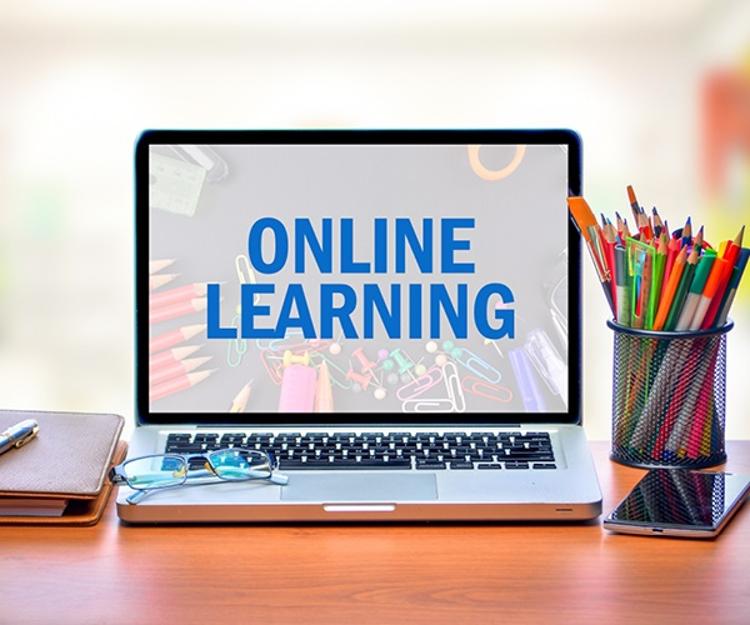 It was March 3 when Tom Kemp first saw the storm clouds gathering. And they were gathering in a hurry.

"I was starting to see things about the COVID-19 pandemic in the communications I read daily," said Kemp, executive director of Cuyahoga Community College's Online Learning and Academic Technology (OLAT) department. "People I knew in the industry were starting to ask each other 'What would you do if you had to move instruction online?'"

On March 11, the NBA suspended its regular season after a player tested positive for COVID-19 prior to a game. Hours later, Tom Hanks became the first major American celebrity to test positive.

That single night in early March, it seemed the entire country was instantly thrust into the worst pandemic in a century.

But days — and hours — still offer critical time to prepare, and those eight days offered Kemp and the OLAT team a much-needed window to scenario-plan, devise solutions and ready the College for what was coming.

Mapping it out
Kemp gathered the OLAT team on March 4, faced with a possibility almost too overwhelming to comprehend: The arrival of the coronavirus in Northeast Ohio would make on-site classes impossible for every academic institution in the region.

Tri-C, like just about all colleges, offers online courses as a matter of convenience for students. But prior to March, those courses accounted for only 15% of the College's overall course schedule. If the pandemic shut down on-site learning, the remaining 85% would have to be delivered remotely in a matter of weeks.

"We had to move quickly," Kemp said. "After that first planning session, I met with Dee Dee Pfister [Tri-C's associate vice president of online learning] and senior College leadership, and started to plan everything out."

All OLAT systems would need their data storage and user interface capacity increased. Online exam proctoring systems would need to be expanded. Access to online tutoring would have to increase, and faculty would need additional training to set up and deliver online coursework.

Kemp and his team worked closely with Blackboard, the provider of the College's online learning delivery system, Blackboard Learn. He also worked with Mediasite and ProctorU, which provide video streaming and test proctoring services integrated into the Blackboard Learn platform.

"We had those conversations with our vendors as quickly as we could," Kemp said. "This is where we are; how fast can you assist us?"

OLAT moved its Blackboard Learn services to a cloud-based platform last fall, which helped Tri-C react faster in scaling its remote learning capabilities. Kemp and his team also worked collaboratively with the College's Information Technology Services (ITS) department to increase user capacity and integrate Blackboard with other internal College systems.

In the span of less than a month, the combined work of College staff and vendors allowed Tri-C to double its storage capacity in Mediasite, double the number of users that could be in the system at a single time and nearly triple the test proctoring capacity within its system.

The calendar also bought Kemp and his team some additional time. Tri-C was on spring break the week of March 9, when the first COVID-19 cases were reported in the region. Classes were called off for an additional week to allow faculty and staff to prepare for the online transition. By the time classes resumed on March 23, the College was ready to make the initial transition. In a matter of several weeks, Tri-C went from 2,540 courses in Blackboard to more than 4,900.

But even after that initial transition, the work was far from done.

Moving ahead
The OLAT team continued to make upgrades to the system in the final seven weeks of spring semester — a task continuing throughout the summer, during which Tri-C remains in an all-online learning format with the exception of a small number of on-site classes and labs.

Among the most critical aspects of this ongoing work is training students, faculty and staff in the use of online learning and virtual meeting software. For students, My Online Readiness Experience (MORE) is available as a training program through Blackboard Learn. Faculty and staff have the opportunity to complete Blackboard Boot Camp online, as well as Webex training sessions.

Pfister, ITS and OLAT also continue to work with other College departments and faculty — as well as Blackboard support staff — to develop and maintain an enhanced help desk model.

"We'll keep training students, faculty and staff on how to optimally use online learning technology," Kemp said. "It's important because this touches every part of the student experience now. Working with other departments, we'll continue to create Blackboard Learn sites for all credit courses, and we'll continue to support and promote online tutoring through Smarthinking [from educational services company Pearson]."

As part of this ongoing work, the College has modified its process for administering preadmission assessments in math and English. Previously, students who didn't possess qualifying ACT or SAT scores — or who didn't have math or English credits to transfer from another school — had to take assessment tests to determine math and English placement.

The on-site tests can no longer be given due to the pandemic, so Tri-C leadership had to devise a new plan.

"We're using a rubric based on high school GPA for English," said Lindsay English, Tri-C's vice president of Learning and Engagement. "For math, we're using a web-based tool that allows students to test from home."

Tri-C is also allowing students to submit unofficial high school transcripts to further expedite the enrollment process at a time when many high school offices are closed or operating with minimal staff, making access to official transcripts more difficult.

"Everything we've done throughout the spring was designed to maintain the College's mission of access to education for all students," English said. "From OLAT's work to increase the reach and capacity of our online learning, to the work faculty and staff have done to adjust on the fly and train on new software, to the work we've done to ensure students have minimal disruption in the admission process — it's been incredible to watch it all come together in such a short time."
This story appeared in the Summer 2020 issue of Tri-C Times.
July 01, 2020
Erik Cassano, 216-987-3577 or erik.cassano@tri-c.edu