Record Number of Students Selected for Tri-C Honors Program Fellowships
Program offers top high school graduates scholarships that cover tuition, fees and books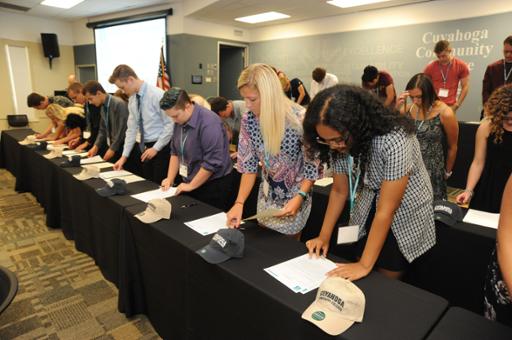 Forty-six top high school graduates have been selected for a Cuyahoga Community College (Tri-C®) Honors Program Fellowship, which offers scholarships to cover tuition, fees and books as they work toward an associate degree.
The College's fifth fellowship class features students with at least a 3.5 GPA and outstanding ACT/SAT scores. By entering the scholarship program, they commit to being full-time students and earning a degree from Tri-C within two years.
The students signed commitment letters with the College during an Aug. 8 ceremony at Tri-C's Jerry Sue Thornton Center in Cleveland. Each scholarship — funded by the Cuyahoga Community College Foundation — is valued at up to $4,838 per academic year.
This is the largest fellowship class since Tri-C began the scholarship program. The previous high was 29 students in 2015.
"These gifted students see the wisdom in beginning their college journey at Tri-C," said Herbert Mausser, assistant dean of Honors and Experiential Learning Programs. "It's the smart choice for a quality education."
The following students, listed by hometown, received honors fellowships to pursue academic success at Cuyahoga Community College:
Broadview Heights: Victoria Zakharchuk
Brook Park: Isabel Culkar, Robert Hagan and Meagan Sellman
Brooklyn: Ciera Ostromek
Brunswick: Lindsay Hayburn, Macon Hoover, Kayla McCroskey, Dennis Ulichney and Jared Ulichney
Chester Township: Stefani Markiewich
Cleveland: Jade DeRivera
Cleveland Heights: Wynette Bender
Euclid: Hope Mocadlo
Garfield Heights: Tristan Douglas and Treat Hanks
Maple Heights: Taviana Carr
Medina: Hallana Beck, Levi Pokersnik and James Stroffolino
North Olmsted: Sean Conroy, Hanaa Falweh, Rose Polgar and Evan Schulz
Northfield: Amanda Novak
Parma Heights: Nicolas Cessna and Rikki Price
Rocky River: Montana Hover and Brandon Zornes
Seven Hills: April Graham
Shaker Heights: Asha Blake, Gabriel Dacanay and Marissa Harris
Solon: Nahanna Sahye-Farmer
South Euclid: Megan Keehn
Streetsboro: Madeline Rice
Strongsville: Jakob Barr, Isabelle Micko and Ross Pavlik
Valley City: Janine Kutolowski and Samuel Penix
Westlake: Jade Hawk
Wooster: Sarah Downer
In addition, three out-of-state students accepted Honors Program Fellowships to relocate to Northeast Ohio and begin their higher education journey at Tri-C. They are Drew Fosler of Indiana, James LaReaux of Hawaii and Audrey Skula of Alabama.
The honors fellowship places special emphasis on academic planning, mentoring and portfolio building to reflect student work. Smaller honors class sizes also ensure specialized attention for students.
The program is designed to support eventual transfer to a four-year institution to pursue a bachelor's and other advanced degrees. Previous Honors Program Fellows amassed numerous academic honors on their way to earning associate degrees from the College.
For information on the Honors Program Fellowship and eligibility requirements, contact Mausser at 216-987-4660 or herbert.mauser@tri-c.edu.
August 14, 2018
John Horton, 216-987-4281 john.horton@tri-c.edu