Record Number of Scholars Selected for Tri-C Honors Program Fellowships
Program offers top high school graduates scholarships that cover tuition, fees and books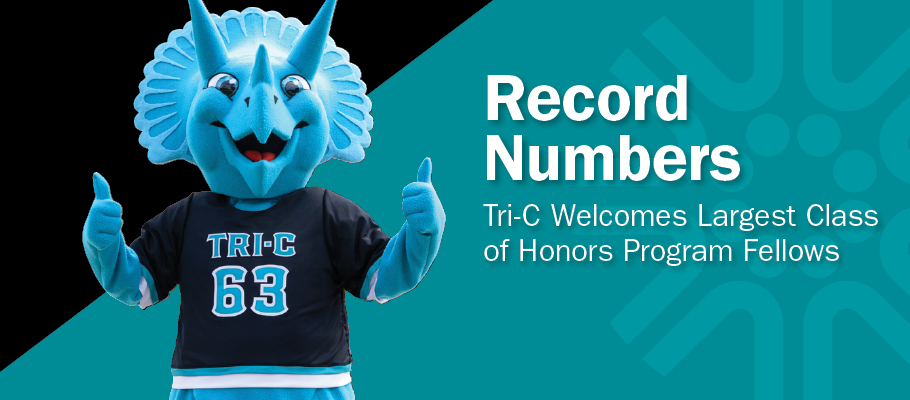 Fifty-four top high school graduates have been selected for a Cuyahoga Community College (Tri-C®) Honors Program Fellowship, which offers scholarships to cover tuition, fees and books as the students work toward an associate degree. 
The College's seventh fellowship class features students with at least a 3.5 GPA and outstanding ACT/SAT scores. By entering the scholarship program, they commit to being full-time students, maintaining a high GPA and earning a degree from Tri-C within two years. 
The students signed commitment letters with the College during a recent virtual ceremony. Each scholarship — funded by donors to the Cuyahoga Community College Foundation — is valued at up to $5,120 per academic year. 
This is the largest fellowship class since Tri-C began the scholarship program. The previous high was 46 students in 2018. 
"These gifted students chose to come here because they understand the power of a Tri-C education," said Karen Miller, the College's provost and chief academic officer. "I look forward to celebrating their success at Spring Commencement in 2022." 
The following students, listed by hometown, received honors fellowships to pursue academic success at Cuyahoga Community College:
Bay Village: Michael Kasunick and Dayna Prochaska
Brecksville: Dylan Clarke
Broadview Heights: Alyssa Del Rio
Brunswick: Rylie Barabash, Faith Davis, Sydney Horn, Shayna Koci, Tyler Koci and Victoria Nagirnyak
Cleveland: Taylor Fessler, Jack Forsythe, Shadarria Robinson and Olivia Wulff
Cleveland Heights: Maya Serna and Talia Weeks
Fairview Park: Sarah Eifel and Nina Thrall
Garfield Heights: Jayla Marshall and NaKayla Pickett
Lakewood: Andrew Griffin and Benjamin Mitchell
Medina: Philip Alberts, Amanda Carter, Matthew McDowell and Svetlana Post
North Canton: Travis Chambers
North Ridgeville: Kaleigh Rukavina
North Royalton: Marena Ghobryal, Son Huynh, Amber Jahoda-Vanek and Alexandra Samame
Olmsted Falls: Elizabeth Traine
Olmsted Township: Marissa Gazer
Parma: Emily Imars, David Martin, Brian Rossman and Zoe Staley
Reminderville: Najee Thornton
Sagamore Hills: Michael Farrar
Seven Hills: Logan Graham and Cassidy Zepernick
Strongsville: Danya Abuzahrieh, Jacob Botsch, Shannon Frabell, Lydia Rabne and Liliya Svydenyuk
Tallmadge: Megan Knotts
Toledo: Jared Payne
Valley City: Caitlin Mason
Wadsworth: Jasmine Graham
Westlake: John Kirschnick and Marissa Luce 
In addition, one out-of-state student —  Brady Fye of New York — accepted an Honors Program Fellowship to relocate to Northeast Ohio and begin his higher education journey at Tri-C. 
The honors fellowship places special emphasis on academic planning, mentoring and portfolio building to reflect student work. Smaller honors class sizes also ensure specialized attention for students. 
The program is designed to support eventual transfer to a four-year institution to pursue a bachelor's and other advanced degrees. Previous Honors Program Fellows amassed numerous academic honors on their way to earning associate degrees from the College. 
For information on the Honors Program Fellowship, including eligibility requirements, contact Rebecca Stolzman at 216-987-4713 or rebecca.stolzman@tri-c.edu.
August 12, 2020
John Horton, 216-987-4281 john.horton@tri-c.edu