Rebuilding a Degree Dream
Tri-C provided the boost to help Darcius Linton Sr. find success at University of Akron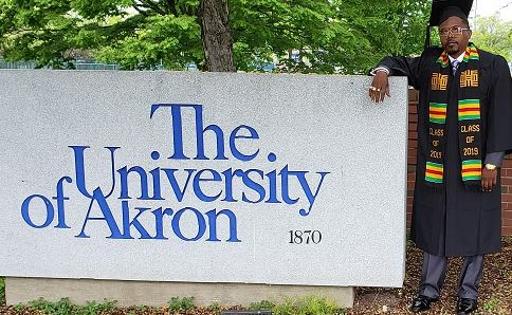 More than two decades ago, life's detours turned Darcius Linton Sr. away from his goal of graduating from the University of Akron.
Cuyahoga Community College (Tri-C®) helped direct him back.
Linton made headlines in the Akron Beacon Journal over the weekend after earning his bachelor's degree in construction engineering technology 23 years after first setting foot on Akron's campus.
That's not the timetable Linton expected when he enrolled at Akron fresh out of high school in 1996. His plans, however, unraveled amidst a series of life-changing events.
He soon found himself working two jobs and raising a family. Fifteen years quickly passed.
Then, in 2013, his father — who has since passed away — encouraged him to go back to school. The Cleveland man enrolled at Tri-C and began rebuilding his academic resume. He took classes online, at night and on weekends to fit into his schedule.
In 2015, Linton graduated from Tri-C with an Associate of Applied Science degree focused on construction management. He then transferred back to the University of Akron to earn his bachelor's degree.
The 41-year-old said Tri-C offered him the opportunity to achieve goals he once set aside. He credited associate professor Trent Gages with giving him the support needed to earn his degrees.
Gages also helped Linton land his current job at Akron-based G. Stephens Inc., a construction management firm.
"I owe so much to the people at Tri-C," Linton said. "They're the reason I am where I am today."
May 13, 2019
John Horton, 216-987-4281 john.horton@tri-c.edu