Radiah Blanton Brings Big Plans to Brunswick University Center
Tri-C alum followed long path to leadership position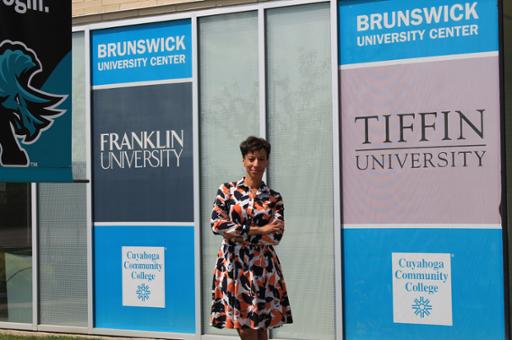 Radiah Blanton has a vision for the Brunswick University Center at Cuyahoga Community College (Tri-C®). As the center's director, she sees it as an integral part of Brunswick and the greater Medina County community — a place with programming that matches the area's workforce needs, a place for people to gather, and a place to nurture students.
"I want to help support the institution, and I want to help support the external community as well," said Blanton, who took the helm in December.
"It's a natural fit. It's fun every single day. Every morning, I can't wait to get here."
Blanton, 48, would have had trouble envisioning this future back when she was a Tri-C student herself, holding down a full-time job at an auto parts store. The Heights High School graduate was aimless back then, not sure what she wanted to do. As a first-generation college student, she lacked confidence.
As time went on, that changed. Blanton earned her associate degree from Tri-C and transferred to Cleveland State University, where she completed a bachelor's in social work and a master's in public administration.
She earned her stripes with the Cleveland Housing Network and Famicos Foundation, where she wore many hats — and comfortable shoes.
"I was pounding the pavement, going door to door, doing literature drops," Blanton said.
Community and program development was work that clicked with her. It was hard but rewarding, and she learned a lot.
"It built a foundation for giving back and helping to strengthen our communities and our families. It's work that I enjoy doing."
A community relations position opened up at Tri-C in 2012, and Blanton went for it, seeing the opportunity to have a wider impact. During the next six years, she worked at the Western Campus in Parma (of which BUC is an extension) and at the College's administrative offices downtown.
"Tri-C has such a good reputation in the community that partnerships come fast," she said. "The cool thing about the job was that you never knew what you were going to get."
A favorite project was a sponsorship with The Literacy Cooperative that resulted in Tri-C's participation in the annual Cleveland Corporate Spelling Bee. The College has finished as a runner-up every year since the inaugural bee in 2016.
"The level of competition was amazing," she said.
Blanton was also involved with the College's annual Martin Luther King Jr. celebration and worked on a partnership with the Cuyahoga County Public Library to support its author speaker series.
But it's her earlier job at Western Campus that she'll draw from in her new position as BUC director. There, she nurtured partnerships with many Medina County organizations such as the Northern Medina Chamber Alliance and the Medina County Economic Development Corporation.
"I'm very excited to be working in Medina County," she said.
As Blanton looks to BUC's future, her priorities include increasing enrollment, expanding programming, partnering with more four-year colleges and strengthening the center's presence in the community. She has already held an open house as well as the center's first job fair.
As she walks the halls of the building, she can't help but think back on her time as a Tri-C student and how far she has come. She is currently working toward a doctorate in community college leadership from National American University.
"I always knew there was something greater and that education was the path to it," she said.
July 25, 2019
Jarrod Zickefoose, 216-987-4750 jarrod.zickefoose@tri-c.edu