Presidential Search Committee Gathers for First Meeting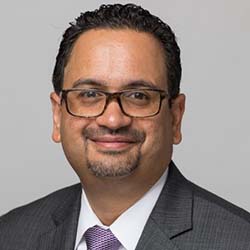 Cuyahoga Community College (Tri-C®) trustee Victor A. Ruiz, who chairs the College's Presidential Search Committee, shared an update on the progress of Tri-C's presidential search.
AGB Search was selected as the search firm to help find a successor for Tri-C President Alex B. Johnson, whose tenure concludes on June 30, 2022, after nearly a decade of leadership. As an affiliate of the Association of Governing Boards of Universities and Colleges, AGB Search leverages 100 years of experience and best practices in strengthening higher education institutions to help colleges, universities and foundations attract highly qualified, diverse candidates for senior-level executive positions.
Representatives of AGB Search visited Tri-C last week to tour facilities and conduct listening sessions with selected College and community leaders.
On Thursday, Dec. 2, AGB representatives met with the College's Board of Trustees. The first meeting of the Presidential Search Advisory Committee also took place Thursday.
Committee members include:
David Abbott, Retired President, The George Gund Foundation
Jamie Bailey, Tri-C Patrolman; President, AFSCME Local 2678
Alicia Booker, Vice President, Manufacturing Technology Center of Excellence, Tri-C
Michael Boyko, Professor and Chapter President, AAUP, Tri-C
Micki Byrnes, Member, Tri-C Foundation Board; General Manager, WKYC
Ann Frangos, Vice Chair, Tri-C Board of Trustees
Eric Gordon, CEO, Cleveland Metropolitan School District
Robert Johnson, Counselor and Chair, Joint Faculty Senate, Tri-C
Lou Joseph, Chair, Tri-C Foundation Board; President and CEO, The Brewer-Garrett Co.
Bill Koehler, CEO, Team NEO
Phoebe Lee, Member, Tri-C Board of Trustees and Chair, Access Learning and Success Committee; CEO, Affinity Apparel
Jeneen Marziani, Member, Tri-C Foundation Board and Executive Committee; Senior Vice President and Ohio Market President, Bank of America
Denise McCory, President, Metropolitan Campus, Tri-C
August Napoli, President and CEO, United Way of Greater Cleveland
Beverly Owens, Records Specialist and President, SEIU District 1199, Tri-C
Amy Parks, Dean, Academic Affairs, Metropolitan Campus, Tri-C
Andrew Randall, Member, Tri-C Board of Trustees; Managing Director, New York Private Bank & Trust
David Reynolds, National Director, Channel Management, Key Private Bank
Victor Ruiz, Member, Tri-C Board of Trustees; Executive Director, Esperanza Inc.
Bob Smith, Chair, WCED Board of Visitors; Partner and Ohio Market Leader, Cerity Partners
Standish Stewart, CIO and Vice President, Information Technology Services, Tri-C
Jordan Wright, Board Student Scholar, Tri-C
Ruiz thanked staff, faculty and students for their support as the search for Tri-C's next president begins.
December 10, 2021
By Anthony Moujaes, 216-987-3068 anthony.moujaes@tri-c.edu