Pipe Dreams
Anne Gallo defies stereotypes while winning bagpiping world championship in Scotland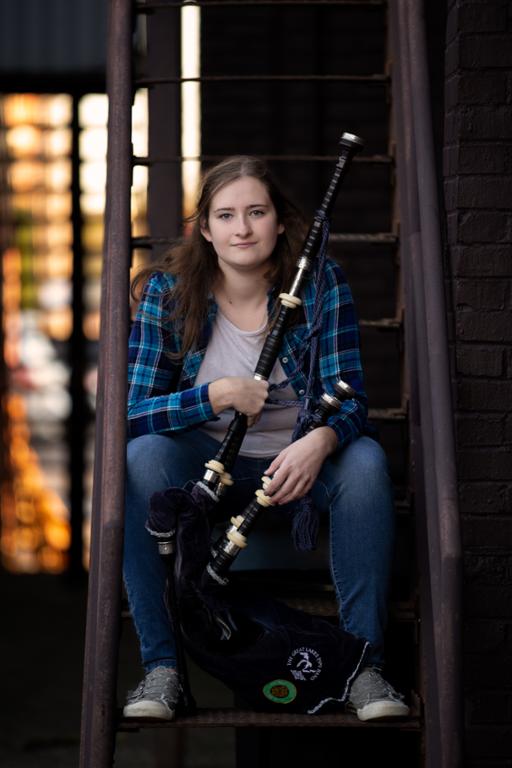 Anne Gallo has a great icebreaker. When she's in a class for the first time, and the instructor asks her to tell the other students something about herself, her response turns heads.
"I'm like, 'I play bagpipes,'" said Gallo, who attends Cuyahoga Community College's Western Campus
As of this summer, she can make that opener even more interesting.
Gallo can now say she is a world champion bagpiper. In August, she was named Piper of the Day at the Glasgow International Piping Festival in Glasgow, Scotland. In her category, Grade 2, she scored the most aggregate points in the competition's three events.
"I knew it was a good performance," said Gallo, who lives in North Royalton. "I don't think it was my best, but I knew it was good."
Even for someone who chose an ancient instrument, Gallo is an uncommon performer. For one, she's a woman. Once prohibited from playing bagpipes, women still form a minority of players.
The 22-year-old is also young among performers usually associated with graying hair. At Glasgow, Gallo was the youngest competitor in her group by at least a decade.
The international success comes after only six years playing the instrument.
"It wasn't until I was 16 that I got serious about the bagpipes, and that's when I actually started playing them," Gallo said. "I'm kind of like a baby in the bagpipe world."
Gallo's large family is Scottish. Her two sisters are Highland dancers. Her eldest brother plays bagpipes, and another brother plays drums in Highland competitions.
Her mom also plays bagpipes. In fact, Gallo said she had her "Eureka!" moment watching her mother play in a solo competition.
"I found out you earn points. The video-game generation in me was like, 'Oh, cool,'" Gallo said.
So, she found a teacher she liked and got serious.
"I hadn't played for a while, and he actually laughed when I first played for him," she said. "I was like, 'OK. I'm going to show him I can do this.'"
Before long, Gallo — a self-described "lazy piper with a natural talent" — was competing at Scottish festivals across the country. Not long after, she was winning praise and medals.
In addition to her competitive solo playing, Gallo is a member of the Great Lakes Pipe Band — at Grade 2, the highest level pipe band in Ohio.
While her summer competition schedule keeps her too busy for classes, the rest of the year she adds studies to her to-do list along with working in the Western Campus College Credit Plus office. Gallo earned an Associate of Arts degree from Tri-C this past summer. However, she's still taking classes at the College as she prepares to transfer to Cleveland State University to study supply chain management.
"I love Tri-C. It's going to be hard to leave it … I like the whole atmosphere of it. The people I meet, the teachers. I've had a lot of really good teachers," she said.
In the meantime, Western Campus has something of a celebrity walking its halls.
"When I was walking around in Scotland at the big festival, this random person points at me and goes, 'Oh my gosh, it's the world champion!'" Gallo said. "I was like, 'What the heck is going on here?'"
December 19, 2019
Jarrod Zickefoose, 216-987-4750 jarrod.zickefoose@tri-c.edu