Overcoming the Math Barrier
Tutoring and hard work added up to an IT degree for Timothy Seibel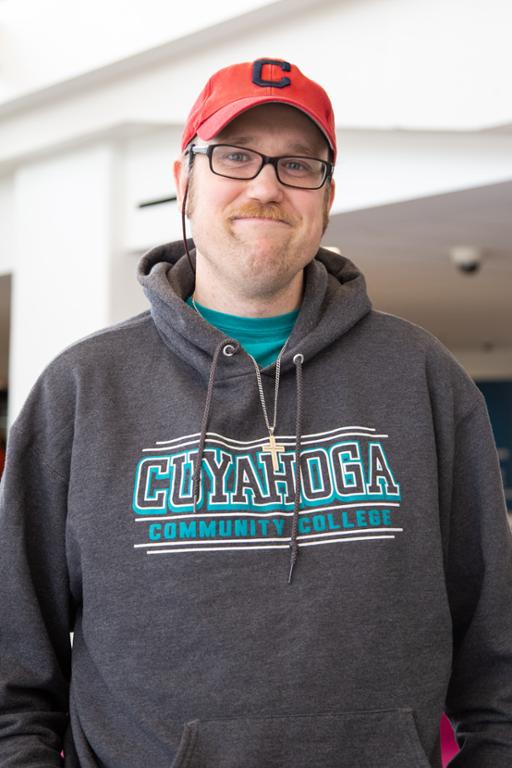 Like many kids growing up, Timothy Seibel loved video games. But as he played "Commander Keen," Seibel wasn't just wondering how he'd get to the next level. He was also wondering how the game stored the program and how the central processing unit (CPU) worked.
The son of an engineer, Seibel had a natural interest in such things: "I liked breaking open computers to see if I could figure out how they worked," he said.
He turned to Cuyahoga Community College (Tri-C®) to develop that curiosity into a career.
This month, Seibel graduates from Tri-C with an Associate of Applied Business degree in IT networking software. The 33-year-old plans to continue to build his resume with industry certifications as he pursues a job in the tech field.
The Cleveland Heights resident enrolled at the College in 2016 after attending an open house at Eastern Campus. At the event, he met IT professors who encouraged him to pursue his interest in computer maintenance.
But Seibel knew a big obstacle stood in his way: math.
As an average math student in high school, Seibel believed a career in computers would be out of reach. The results of his math placement test after applying to Tri-C only strengthened those fears.
So he got to work. Starting with remedial math courses, Seibel built his skills to the level needed to be successful in the IT program.
He credited Tri-C tutors, counselors and professors for the A's that landed on his transcript. They helped him take new approaches and look at math differently, boosting both his grades and his confidence.
Seibel is set to graduate cum laude after overcoming his math obstacles. He advised potential students worried about their math abilities to set aside their fears, enroll and start working toward a degree.
"Don't worry so much about the grades — focus on getting the knowledge instead," Seibel said. "Just stay positive and keep pushing through, even when it seems tough."
Cuyahoga Community College will celebrate the academic achievements of thousands of students on May 16 at Spring Commencement. Check our News and Events page in the days leading up to the ceremony as we highlight members of the Class of 2019.
May 10, 2019
Kathy Gill, 216-987-4704 kathy.gill@tri-c.edu