On the Front Lines of COVID-19: Tri-C Student Called an 'Unsung Hero'
3News story on Stacy Howard includes surprise scholarship award from Tri-C Foundation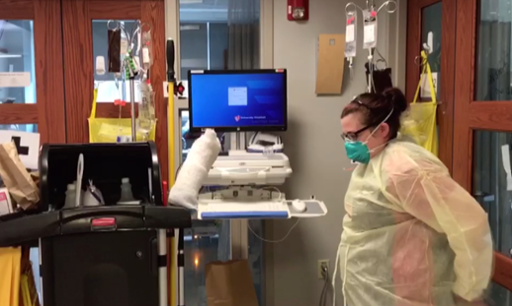 Stacy Howard suits up daily at University Hospitals Parma Medical Center to clean and sanitize rooms housing COVID-19 patients. She understands the dangers, too. That's why she asked for the assignment.
Howard — who's working at the hospital while studying graphic design at Cuyahoga Community College (Tri-C®) — volunteered to clean the patient areas with coronavirus cases to protect one of her co-workers.
That colleague, Nedjeljka Grabundzija, has family members with a higher risk of developing complications from the disease if exposed. Grabundzija described Howard's act as life-saving.
WKYC 3News described Howard as an "unsung hero" in a story that aired May 18.
In the segment, Howard's supervisor, Eric Vidal, called her an inspiration: "No matter what obstacles she's facing, she continues to push through it and maintain an inspiring attitude," he told reporter Danielle Wiggins.
Howard's history shows her strength. Last year, a deadly fire that swept through Camelot Apartments in Parma Heights left Howard and her family homeless.
She also was exposed to COVID-19 this year and forced to self-quarantine for two weeks.
Those hardships, however, never stopped Howard from pushing forward. 3News reached out to the College to share Howard's courageous story last week. That led to a special surprise for the mother of two.
In a video call included in the segment, Cuyahoga Community College Foundation President Megan O'Bryan told Howard she would be receiving a scholarship to help get her to the graduation finish line.
"Thank you, Stacy, for the work you're doing," O'Bryan said. "You're amazing."
Click here to view the segment.
May 18, 2020
John Horton, 216-987-4281 john.horton@tri-c.edu