Olivia Rodriguez Finds Many Ways to Serve
Tri-C's Student Veteran of the Year is passionate about helping environment, others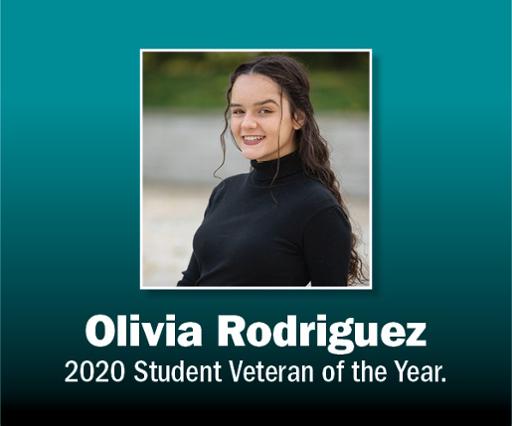 Olivia Rodriguez has never taken the easy way out. 
It's why the 21-year-old Lakewood resident is now a Cuyahoga Community College (Tri-C®) graduate and recipient of the 2020 Tri-C Student Veteran of the Year award. 
After graduating from Lakewood High School three years ago, Rodriguez already had a plan for her future. She entered the U.S. Army Reserve, attending basic training at Fort Leonard Wood in Missouri. After basic training, she had to pick an area of specialization. 
Her choice? Combat medic. 
"It was tougher, a little more of a challenge," Rodriguez said. "I like the idea of helping people, and I wanted something a little more hands-on compared to some of the other options I had." 
After attending combat-medic training at Fort Sam Houston in Texas, Rodriguez came home in April 2018 to be stationed with the 371st Minimal Care Detachment, an Army Reserve unit based in Twinsburg. Like most reservists, she attends ongoing weekend training once a month, along with a multiweek training excursion each summer. 
But Rodriguez, as always, was looking for another challenge. In addition to serving her country, she wanted to use her time in the reserve to advance her education. She enrolled at Tri-C in fall 2018, attending classes at the Westshore Campus in Westlake. 
"Being with a reserve unit, you have to choose schools and workplaces that allow you to be easily available if needed," Rodriguez said. "That was part of the appeal of Tri-C. It was close to home and close to my unit. I was able to serve, able to go to school, and able to explore different career tracks and discover new interests." 
Finding a purpose
During her time at Tri-C, Rodriguez became interested in sustainability, environmental issues and solving food-scarcity problems for underserved populations. 
"In my first English class at Tri-C, the professor had us write an essay about food and the topics surrounding it," she said. "That's what really got me thinking about food scarcity, particularly in American cities, where we should never have problems like that." 
She began learning about the connection between the food supply and responsible treatment of the environment. Seeing an opportunity to involve faculty and other students, she spearheaded the formation of the Westshore Campus Environmental Club, serving as its president. 
Already situated within a natural habitat that serves as an outdoor classroom, the campus provided an ideal setting to launch an environmental club.
 "There were a number of others at the campus who encouraged me," she said. "From the time we formed in December 2018, we helped on a lot of different projects. We planted native flowers around the campus, we were able to get a solar-panel bench with electrical outlets for charging phones, and we promoted beach cleanups at Lake Erie. We also had projects planned for this past spring, but COVID ended most of that." 
Rodriguez was involved in many other activities while at Tri-C, including Phi Theta Kappa, the Honors Program and a work-study position funded by the College's Veteran Services program. That's on top of her achievements with the Army Reserve, including certification as an emergency medical technician and receiving the Army Achievement Medal for her leadership during training. 
Student Veteran of the Year
Rodriguez graduated from Tri-C with an Associate of Science degree this past spring. But her willingness to lead and constant desire to seek out new challenges left a lasting impact on the Westshore Campus. For her work, vision and leadership, she was named the 2020 Tri-C Student Veteran of the Year in October. 
For Rodriguez, it is a great personal honor. But it's more than that — it demonstrates the opportunities Tri-C offers to active military and veterans looking to further their education. 
"It's a symbol of the hard work I've put in, but it also shows how much Tri-C supports veterans and military in the community," she said. "If you come to Tri-C as a veteran and are motivated to put in the work, they will give you the support you need to be successful — socially, academically and financially. There are so many programs you can choose from to help you accomplish your goals." 
With associate degree in hand, Rodriguez is embarking on a new journey at Loyola University Chicago. She originally planned to move to the city for the start of the fall semester, but COVID-19 restrictions have kept her in Cleveland, taking classes online. 
"I'm pursuing a bachelor's degree in environmental science with a focus on food systems and sustainable agriculture," she said. "I want to work for an organization or nonprofit that addresses food scarcity problems. That's one area where I really want to make a difference." 
Rodriguez aims to graduate from Loyola Chicago in 2022, and she is scheduled to be discharged from the Army Reserve in 2023.
November 02, 2020
Erik Cassano, 216-987-3577 erik.cassano@tri-c.edu