Off and Running: Tri-C Cross Country Wins Season-Opening Meet
Hope Brown paces the Triceratops with a first-place finish at Daniel Walker Invitational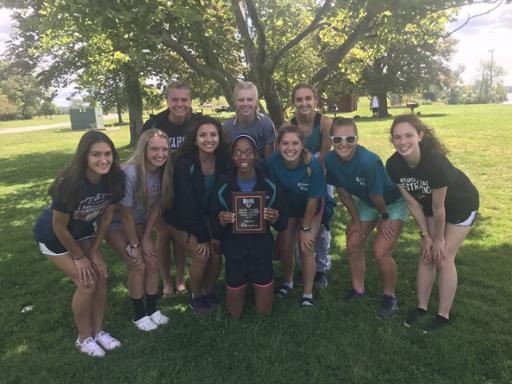 Talk about a fast start.
The Cuyahoga Community College (Tri-C®) cross country team opened the 2019 season with a victory at the Buffalo State Daniel Walker Invitational. The four-team meet took place Aug. 31 at Beaver Island State Park in New York.
Sophomore Hope Brown of Middleburg Heights finished first among all runners at the invitational with a time of 20:43 on the rolling 5,000-meter course.
Freshman Claudia Mendek (North Royalton) finished close behind to grab third place. She was followed by sophomore Hannah Heath of Black River (fifth) and freshmen Hailey Vitolo of Perry (seventh); Juliet Rayer of North Royalton (ninth) and Kristen van't Veer of Ashtabula (10th).
Overall, nine of the first 15 runners to cross the finish line wore Tri-C teal.
The Triceratops cross country team has qualified for nationals the past 18 years while building a reputation as one of the nation's strongest programs. The team finished 29th in the country last year.
Tri-C travels to Akron's Firestone Park next weekend to compete in the University of Akron's Tommy Evans Invitational. For more information on the team, visit www.tri-c.edu/athletics.
September 03, 2019
John Horton, 216-987-4281 john.horton@tri-c.edu