News 5 Highlights Tri-C's Women in Transition Program
Segment shares stories demonstrating the program's life-changing lessons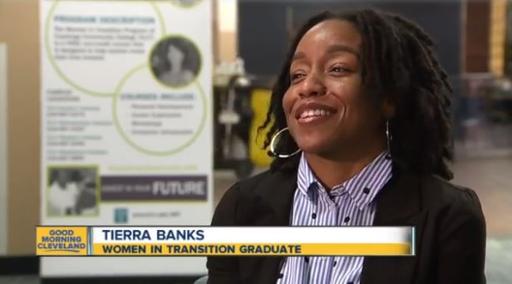 Tierra Banks looked in the mirror in 2015 and saw a woman who needed a change. She was 25 years old, juggling responsibilities as a wife and mother and wondering how she could launch a new career.
She felt like she needed guidance — and she found it through the Women in Transition program at Cuyahoga Community College (Tri-C®).
Banks recently told her story to News 5 reporter Frank Wiley in a segment highlighting the free program, which is designed to empower women in their pursuit of education, training and a career.
As the name suggests, the program is for women going through a life transition. More than 400 women a year complete the program, which is offered at Tri-C's four campuses.
"I see them blossom," program director Cicely Campbell told Wiley. "I see their whole persona change."
Banks is the perfect example. After completing the Women in Transition program, she earned a degree at Tri-C, wrote a book and launched a nonprofit organization — Mended Inc. — focused on strengthening relationships between mothers and daughters.
The next Women in Transition session begins in March. Click here to view the News 5 segment.
January 28, 2020
John Horton, 216-987-4281 john.horton@tri-c.edu