Newest 'Tri-C Times' Focuses on State of the College
Fall 2018 edition of magazine now available online and at select locations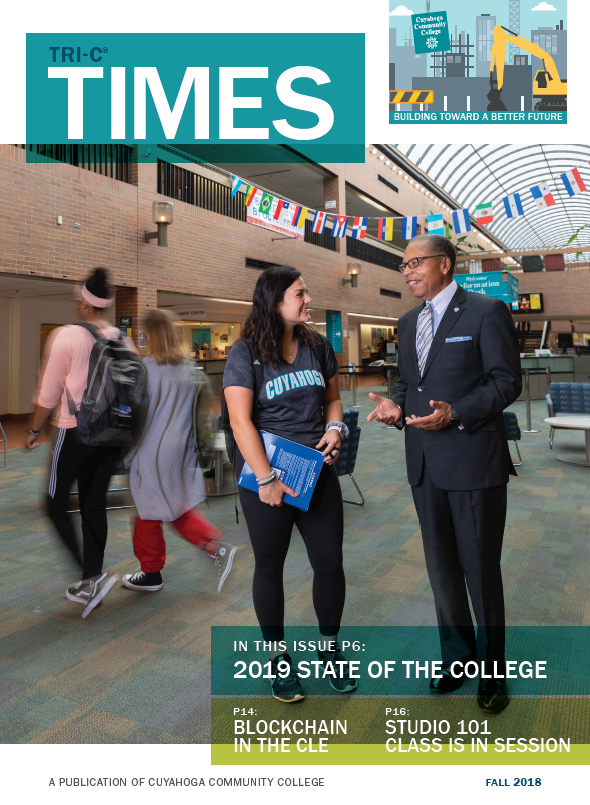 As Cuyahoga Community College (Tri-C®) enters the final month of a historic year, College President Alex Johnson can't help but focus on one critically important question: What's next?
The newest edition of Tri-C Times looks ahead to 2019 with its annual State of the College report, which examines academic gains, construction projects and other accomplishments of the past year.
The report — presented in a Q&A format with Johnson — is one of more than a dozen stories in the Fall 2018 issue highlighting students, staff, programs and alumni of the College.
The 32-page publication features the work of an award-winning cast of writers and photographers. The magazine is produced by Tri-C's Integrated Communications Department.
The College distributes more than 40,000 free copies of Tri-C Times across Northeast Ohio. Look for the magazine available at campus locations as well as Cleveland Public Library and Cuyahoga County Public Library branches.
In addition, it is provided to subscribers of Cleveland Magazine and Smart Business and will be included with the January editions of each publication.
Current and past editions of Tri-C Times are also available online.
November 26, 2018
John Horton, 216-987-4281 john.horton@tri-c.edu