New Tri-C Times Highlights 2021 Grads
Summer 2021 issue takes a look at student success, community support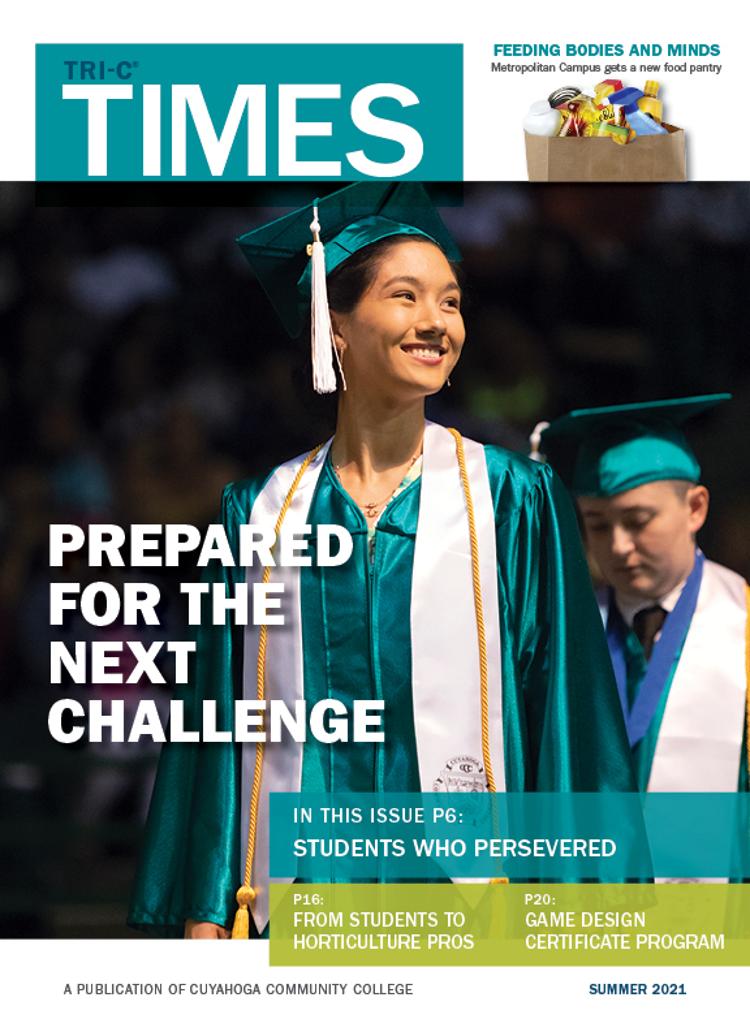 The Cuyahoga Community College (Tri-C®) Class of 2021 has completed a year unlike any other. Despite pandemic restrictions, several thousand dedicated students remained focused on their goals and earned their degrees.

The Summer 2021 issue of Tri-C Times magazine takes a look a few of their stories. You'll read about an aspiring actress who learned a new way to perform at Tri-C; a nursing student who was inspired to join the medical field by his grandmother; a future forensic scientist who started a new life in Ohio after Hurricane Maria devastated her home of Puerto Rico; and the Spring 2021 student speaker who found her future in art therapy, among others.

You'll also learn about the professor who is the driving force behind Tri-C's Plant Science and Landscape Technology program, among the best in the country, with award-winning students that routinely compete with and defeat students from much larger schools in national competitions.

Moving from the great outdoors to the computer lab, you'll read about Tri-C's Game Design certificate program, which prepares students for opportunities in a wide variety of technology-based careers.

You'll meet the College alumna and Say Yes success coach who is inspiring and empowering a generation of girls to think like royalty, and the daughter of a longtime Tri-C professor and administrator who is helping to strengthen her mother's legacy. And you'll take a peek inside the brand-new food pantry at the Metropolitan Campus.

Tri-C Times is available both online and in print. More than 25,000 print copies are distributed across all Tri-C campuses and throughout the community.

The magazine is an award-winning publication produced by the College's Integrated Communications department. Honors include a 2020 Paragon Silver Award announced this March by the National Council for Marketing and Public Relations.

Click here to view the Summer 2021 issue. Past editions are also available online.
June 17, 2021
Erik Cassano, 216-987-3577 or erik.cassano@tri-c.edu