New Food Pantry Opens at Metro Campus
Gift from Char and Chuck Fowler allows campus to address student food insecurity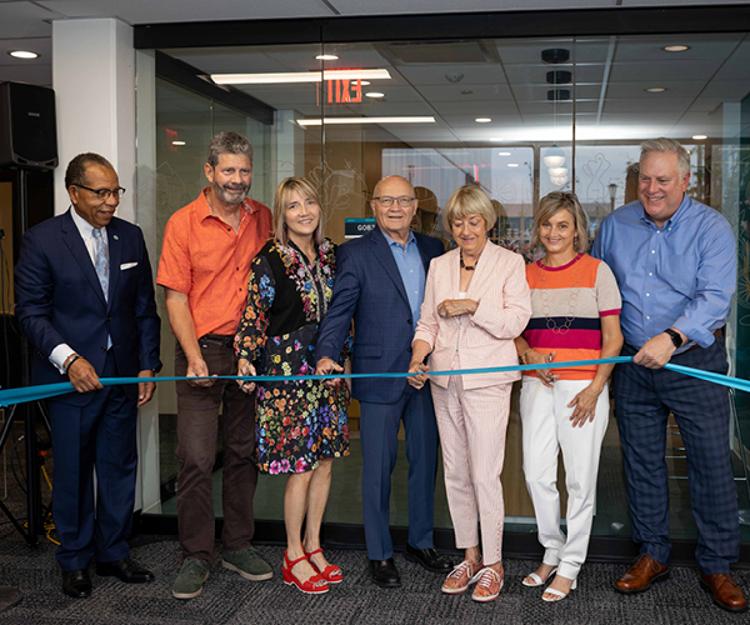 CLEVELAND — Students in need of food assistance and other basic necessities have a new destination at the Metropolitan Campus of Tri-C.

The Pantry: A Tri-C Connect Initiative was dedicated June 10 in a ribbon-cutting ceremony attended by Tri-C and community leaders.

Made possible by a $1,020,000 gift from Char and Chuck Fowler, The Pantry — located in the south concourse adjacent to the Metro Campus Center — will provide eligible students with up to 15 pounds of food, toiletries and other basic necessities each week.

"Char and Chuck continue to set an example for how Northeast Ohio can grow to be an inclusive, thriving and prosperous place for all. We are grateful for their partnership and transformational investment in Tri-C students," said Alex Johnson, Tri-C president.

Hunger remains a fundamental barrier to educational access and completion for a significant number of Tri-C students. The Pantry ensures students in need have access to food, essential resources and financial support in an open, welcoming space.

"Tri-C students are the future of Northeast Ohio," said Char Fowler. "In partnering with Tri-C, we can help students overcome one of the greatest barriers to their educational success. Cleveland is fortunate to have this caring, quality college in our midst, working to build an equitable Northeast Ohio."

The Greater Cleveland Food Bank will stock the pantry with fresh and nonperishable food items, funded in part by the Fowlers' gift. This transformational investment also establishes the Fowler Family Student Success and Resource Fund, which will continue to fund The Pantry while assisting students with short-term financial expenses, such as housing costs and child care, in times of hardship.

"Thanks to Char and Chuck's vision, this is a holistic, nourishing environment that expands our capacity to help more students," said Megan O'Bryan, Cuyahoga Community College Foundation president. "We are excited to open this important resource and critical system of support for students."

Visit tri-c.edu/thepantry for more information.
June 14, 2021
Erik Cassano, 216-987-3577 or erik.cassano@tri-c.edu