New Country, New Opportunities
Born and raised in Ghana, Ibrahim Sackey came to America to begin a new life, with help from Tri-C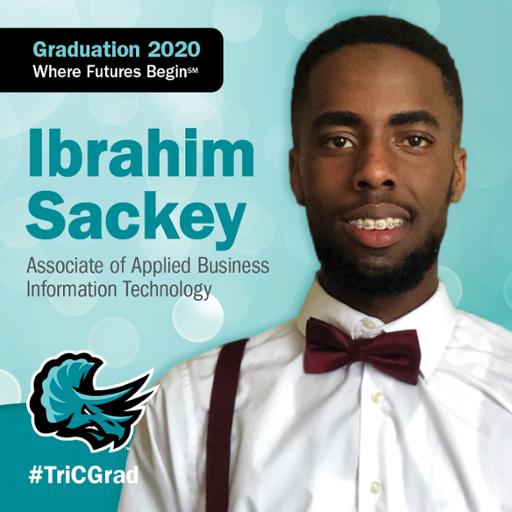 In his native Ghana, Ibrahim Sackey was always the neighborhood IT fix-it guy. It's how he began learning the tools of the technology trade.
"Neighbors would always call me if they had a computer problem because they knew I was into that," Sackey said. "I really enjoyed it and started educating myself along the way."
But opportunities to further his IT education were much more difficult to come by in his West African homeland. So in 2017, he immigrated to the United States and settled with relatives in the Cleveland area.
A year later, he enrolled at Cuyahoga Community College (Tri-C®) to pursue a career in computers.
After earning a certificate in computer maintenance last fall, Sackey will graduate this month with an Associate of Applied Business degree in information technology, with a concentration in networking software.
It's the end result of two years of hard work and high achievement that began when his Cleveland family told him about Tri-C.
"I moved in with my aunt and cousins," he said. "They told me Tri-C was close by, it had a good reputation for IT, and based on my financial situation at the time, I could still afford it. Those were the reasons I enrolled."
In his time at the College, the 23-year-old Cleveland Heights resident has served as president of the Information Technology Career Advancement Club and joined Phi Theta Kappa Honor Society and the Jack, Joseph and Morton Mandel Scholars Academy.
In March, Sackey was named a Student Technology Champion by the League for Innovation in the Community College. He was one of three students honored from across the country.
After graduating from Tri-C, he will begin taking classes through Western Governors University, aiming to earn a degree in network operations and security.
Sackey's high level of motivation stems from the knowledge that he could be living a very different life back in Ghana.
"When I moved to the U.S., I found out there are so many opportunities here," he said. "You don't have to go hunting. Here, you can do anything as long as you have the passion and drive to achieve it. That was something that was reinforced by my professors and the staff at Tri-C. They always encouraged me and pushed me.
"They taught me that, no matter what I do, I should put everything I have into it."
May 11, 2020
Erik Cassano, 216-987-3577 erik.cassano@tri-c.edu