New Country, New Beginning
After emigrating from Ecuador, Valeria Mantuano found a home at Tri-C and earned a degree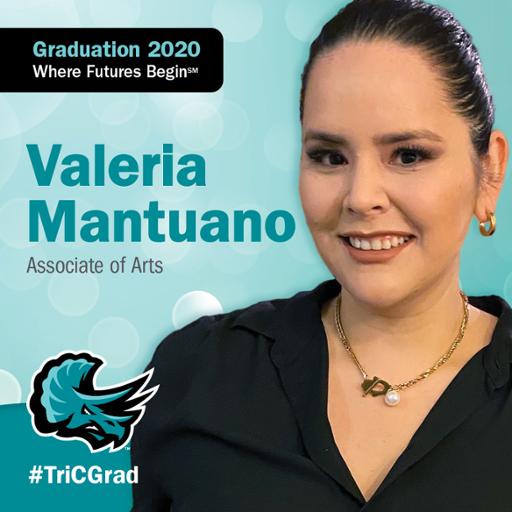 Three and a half years ago, Valeria Mantuano moved to Cleveland from Ecuador with her family. She was in her mid-20s, didn't know anyone, had no college education and spoke barely a word of English. 
Today, the 29-year-old Brook Park resident is bilingual, has friends from around the world and is an aspiring human resources professional. 
Her progress is due to her own hard work and the support she found at Cuyahoga Community College (Tri-C®), where she will graduate with an Associate of Arts degree this month. 
"When we arrived in the U.S., my aunt was in Cleveland and convinced us to come here as well, since the cost of living was cheaper," Mantuano said. "That's when I found out Tri-C has a great English as a Second Language program." 
Mantuano began taking ESL classes in spring 2018. In her first year, she focused entirely on learning the language so she could pursue her career goals. After completing all three semesters of ESL in a year's time — while also working full time — Mantuano began taking classes in other subjects, with the goal of graduating, transferring and earning a bachelor's degree. 
"One of the things that really surprised me was how much the professors at Tri-C teach from experience," she said. "They all have so much real-world background in their subjects." 
With support from professors and classmates, Mantuano emerged as a standout student, becoming a member of the Honors Program and Phi Theta Kappa, and earning a Hispanic Endowed Scholarship in each of the past three years. 
She also sought guidance from the Tri-C Hispanic Council, which she said played a key role in helping her make the adjustment to attending college in a new country. 
"I was worried about how difficult it would be to go to college and feel comfortable and prepared," she said. "But my Hispanic Council advisors helped me a lot. They have a lot of resources that can help you." 
Mantuano will transfer to Baldwin Wallace University next semester, where she will pursue a bachelor's degree in human resources with a minor in business. After graduating from BW, her goal is to become an HR coach or trainer. 
Like so many immigrants, Mantuano now sees America as a land of opportunity and goals that can be achieved with hard work. 
"My family left Ecuador because the economic situation wasn't good, and my family wanted to be in a country with a better quality of life," she said. "Here, the road can be tough at first, but you can succeed. 
"My advice to others is to stick with it and don't give up, even if it's hard. You can be successful, and you can build a new life." 
Cuyahoga Community College will celebrate the academic achievements of its newest graduates during a Dec. 17 virtual commencement ceremony. Check our News and Events page leading up to the online event as we highlight members of the Class of 2020.
December 13, 2020
Erik Cassano, 216-987-3577 erik.cassano@tri-c.edu