#MyTriCStory: Kellie Emrich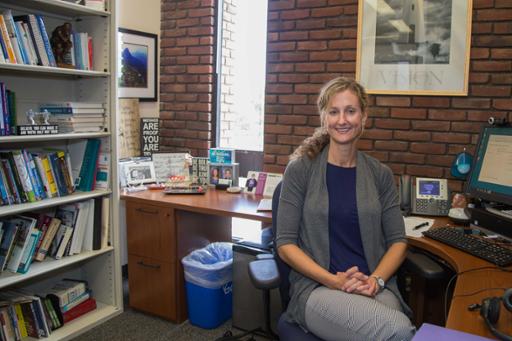 #MyTriCStory is a series highlighting everyday people in the Tri-C community. Today we meet Kellie Emrich, associate professor of marketing at Tri-C's Metropolitan Campus.

#MyTriCStory: What is your role at Tri-C?

Kellie Emrich: I'm a full-time faculty member teaching marketing classes. Right now I'm focusing on social media marketing.

#MTCS: What is social media marketing?

KE: Social media is any way people communicate with each other on the internet. You have the platforms people are familiar with, like Facebook, Instagram, Twitter and Snapchat, and there are many ways a company can use those platforms to market businesses. Each platform has a unique way of targeting audiences.

#MTCS: Is it important for companies to have a social media marketing strategy in today's world?

KE: It's like asking if a company should have a website — that answer is yes. Nowadays, you have to have a web presence and a social presence. You should be coordinating social media strategy with your web presence. The argument of "not everyone is on social media" is an old one because the majority of people use one platform or another.

#MTCS: Tell me about the new Social Media Marketing certificate at Tri-C.

KE: We've updated our associate degree program in Marketing to include a brand new Social Media Marketing certificate. Everyone enrolled in our degree program will automatically receive this certification. We call that stacking.

The certification is also available to people who may already have a degree. Industry certifications like Hootsuite Academy and Facebook Blueprint are also offered within the certificate program.

#MTCS: Do the students receive any industry experience in this certification?

KE: Yes! The program's capstone allows students to work directly with a small business to develop their social media marketing strategy and content. We have partnered with Tri-C's 10KSB program and other local businesses to be able to provide this real industry experience for our students.

#MTCS: What are you most excited about with this program?

KE: There is a huge need in Cleveland for social media marketing skills. We have local businesses contacting us all the time looking for students who have experience in social media, internet marketing and content design. I'm excited to be able to provide placement for my students and provide Cleveland with knowledgeable professionals.
June 29, 2018
Tammy London, 216-987-4812 tamara.london@tri-c.edu