#MyTriCStory: Katelyn Koo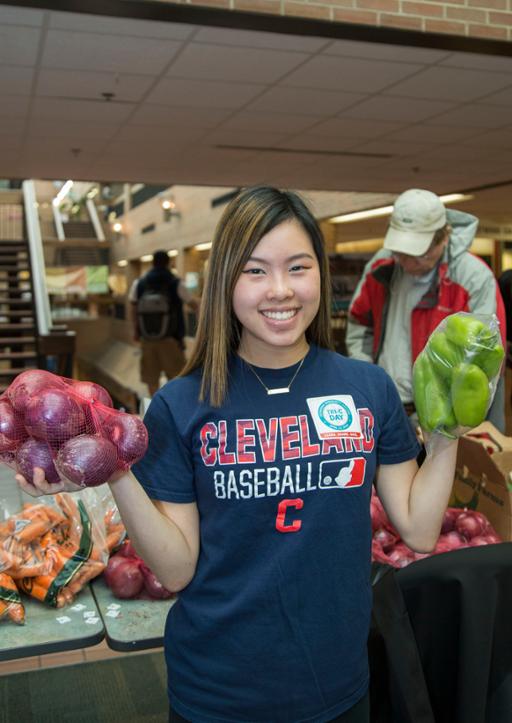 #MyTriCStory is a series highlighting everyday people in the Tri-C community. Today we meet Katelyn Koo, a member of Student Government at Western Campus.

#MyTriCStory: What is Fresh Produce Day at Tri-C?

Katelyn Koo: One of the activities I participate in as part of Student Government is Fresh Produce Day, sponsored by the Greater Cleveland Food Bank. We distribute free fresh produce like potatoes, onions, carrots and green beans to students once a month. We just had our last one for spring semester, but the program will continue in the fall.

#MTCS: Who can participate in the free fresh produce program on campus?

KK: Anyone who has an S-Number can participate. There's a form in the Student Activities Board office to fill out if you'd like to help distribute the produce. I also want to add that, even though the last Fresh Produce Day for the semester has passed, our student food bank is open all year. You can donate to the food bank by dropping off goods in the bins located around campus at any time.

#MTCS: What is the purpose of a program like this one at Tri-C?

KK: It serves so many different types of people in the student community. Everyone deserves access to healthy foods, and students need it just as much as anyone.

#MTCS: How has participating in this program improved your Tri-C experience?

KK: It's been such a positive experience. I get to interact with people I may never have had the opportunity to without this service. I meet so many different types of students through activities like this. It makes my time here at Tri-C fun and meaningful.
April 13, 2018
Tammy London, 216-287-5892 tamara.london@tri-c.edu