Meet Me @ Tri-C: Mick Munoz
Veterans Initiative administrator works with students at Brunswick University Center and Westshore Campus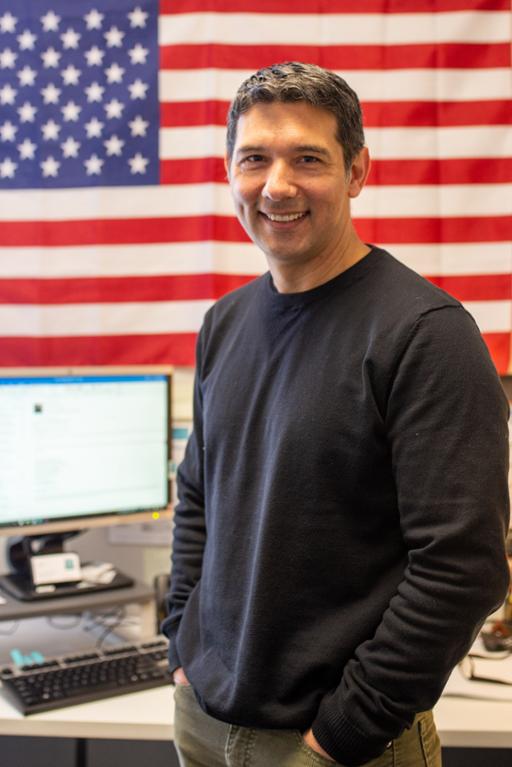 Tri-C Times magazine includes a feature called "Meet Me @ Tri-C" to highlight people at Cuyahoga Community College. The Spring 2019 edition included this story on Mick Munoz, a Tri-C's Veterans Initiative administrator.
Munoz, who served in the U.S. Marine Corps, lives in Fairview Park and has been with the College since 2015. He works with veterans at the Brunswick University Center and Westshore Campus.
Tri-C Times: What drew you to Tri-C?
MM: I graduated from Strongsville High School in 1988 and promptly joined the U.S. Marine Corps. I was in the Marines from 1988 to 1992, serving in the first Gulf War (operations Desert Shield and Desert Storm). When I returned home, I started working in a warehouse and taking night classes at Tri-C's Western Campus. I liked the location, price, class options and the professional faculty and staff. I earned my Associate of Arts from Tri-C in 1996.
I've worked for the Veterans Initiative at Tri-C since 2015. I love my job. I help veterans coming home get started with their GI Bill, military transcripts, student accessibility services, veteran scholarships and anything related to college. I also provide wraparound support in referrals to the Veterans Affairs Medical Centers, mental health counseling, family counseling, connections to other local veteran groups and jobs. It's great to help people who are going through exactly what I went through when I came home.
TCT: As a part of the overall College population, how important are veterans — and why?
MM: Veteran students possess significant life experiences, including an understanding of global issues  and experiences with diverse cultures. Veteran students demonstrate a more mature focus on learning  a history of selfless service, maturity, self-reliance, resourcefulness  and leadership skills.
TCT: What is the most challenging aspect of your job? What is most rewarding?
MM: The most challenging aspect is working with students who really want to go to college but have so many obstacles outside the classroom. Mental health is a huge issue. Money can be tight, and the VA is often late with housing and book payments. Veterans have to manage jobs, families, school, service-connected disabilities and VA medical appointments.
The most rewarding aspect of my job is when students persevere and overcome barriers. Instead of post-traumatic stress, we like to talk about post-traumatic growth and how people become stronger after experiencing trauma. To see students find a place on campus, make new friends, accomplish their goals and graduate college is life-affirming.
TCT: What do you like to do in your free time?
MM: I love to read science fiction and self-help, exercise and spend time with my family. I live close to the Metroparks and try to take advantage of the great trails for hiking, biking and river walking with my nieces.
April 03, 2019
Jarrod Zickefoose, 216-987-4750 jarrod.zickefoose@tri-c.edu