McDonald Hopkins 'Leaders in Education' Program Welcomes Tri-C's Alex Johnson
College president will talk about commitment to improving access to higher education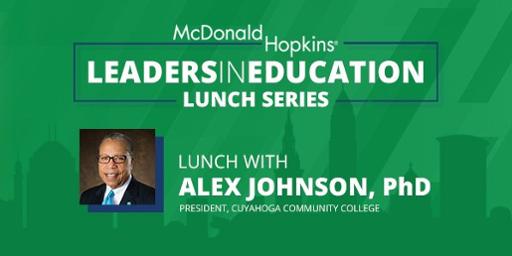 Record graduation rates define the past few years at Cuyahoga Community College (Tri-C®). The goal for the future? "We want to push those numbers even higher," Tri-C President Alex Johnson said.
The College's commitment to student success and improving access to higher education will be the focus of the next "Leaders in Education" lunch series program hosted by Cleveland's McDonald Hopkins law firm.
Johnson will be the featured guest at the Sept. 19 event, which will be available via webcast. (Click here to register for online access or tickets to the luncheon.)
David Kall, managing member of the McDonald Hopkins Cleveland office, will moderate the discussion. This is the third installment of the Leaders in Education lunch series since it debuted in April.
The firm launched the series to put increased focus on higher education.
"When you look at what's going on in our community, education is a priority," Kall told Channel 3 during an interview earlier this year. "If we educate our workforce and train our workforce, it will help relieve poverty."
Among the topics to be discussed Sept. 19 include the upcoming academic year at Tri-C, the College's role in economic development and the recent opening of Tri-C Access Centers in the community. 
August 15, 2019
John Horton, 216-987-4281 john.horton@tri-c.edu