Marc Whitmore Found 'Keys' to Recording Industry Success at Tri-C
Recording arts grad turned lessons into a gig with Black Keys drummer Patrick Carney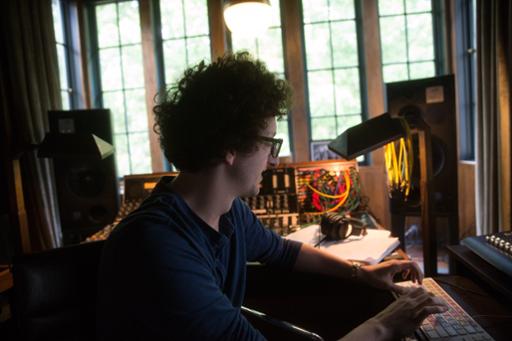 Marc Whitmore always listened to the Black Keys, the Grammy Award-winning rock band from Akron. These days, though, he listens closer than he ever dreamed possible.
The Cuyahoga Community College (Tri-C®) graduate works full time as the sound engineer for Black Keys drummer Patrick Carney. He credits Tri-C's Recording Arts and Technology (RAT) program for equipping him with the knowledge and skills to land the gig.
"They teach you all about the world of recording," the 26-year-old said. "It's up to you to take that and do whatever you want with it."
Whitmore never expected to enroll at Tri-C when he set out on his rock 'n' roll journey. After graduating from Struthers High School outside of Youngstown, he looked into recording arts schools and larger universities.
A Google search introduced him to Tri-C's RAT program in the Gill and Tommy LiPuma Center for Creative Arts at Metropolitan Campus. The world-class facility features seven recording control rooms — each with a different mixing setup — and three music technology classrooms.
"After taking a tour of the facility, I thought, 'How is this even here? Why wouldn't I go?'" Whitmore said.
He moved to Cleveland in 2011 and began pursuing his Associate of Applied Science degree in recording arts and technology. Whitmore said instructors, such as professor Brian Boyd, fine-tuned his skills with hands-on training.
"He drove the science of recording into my head and taught me to apply it to what I wanted to do," Whitmore said.
Whitmore took an internship at Blackbird Studios in Nashville to finish up his degree. He said he discovered that his Tri-C classes on equipment such as Pro Tools recording software put him on a different level.
"I found out that I was more skilled than most people who've been in the industry for a while," he said.
Connections made during his internship eventually led him to Carney.
"I was in the right place at the right time, and I met the right people," Whitmore said. "I worked with [songwriter and producer] Robin Eaton, and he hooked me up with [producer] Roger Moutenot, who knew Patrick."
Whitmore worked with Carney to build a new studio and engineer the latest album by the Black Keys, the much-anticipated Let's Rock. The band's first album in five years also launched a tour that began this summer.
On Sept. 30, the Black Keys will rock Cleveland's Rocket Mortgage FieldHouse. Whitmore is part of the touring crew, too, serving as drum tech to keep the beat going for Carney.
Tri-C made it all possible — a message Whitmore shares often. When he meets someone interested in the recording industry while on the road, he encourages them to consider moving to Cleveland to enroll at the College.
"Some people are wowed by bigger schools, but Tri-C is awesome," Whitmore said. "And the Black Keys think it's the coolest thing that there's a local school doing big things."
September 24, 2019
Madeline Shepherd, 216-987-4616 madeline.shepherd@tri-c.edu